This vegan overnight vanilla chia seed pudding is healthy yet delicious, made with only 4 ingredients that you likely already have, and will definitely become your go-to chia pudding recipe. It's perfect for breakfast, a midday snack, or a yummy dessert. You can enjoy it on its own or with a variety of toppings!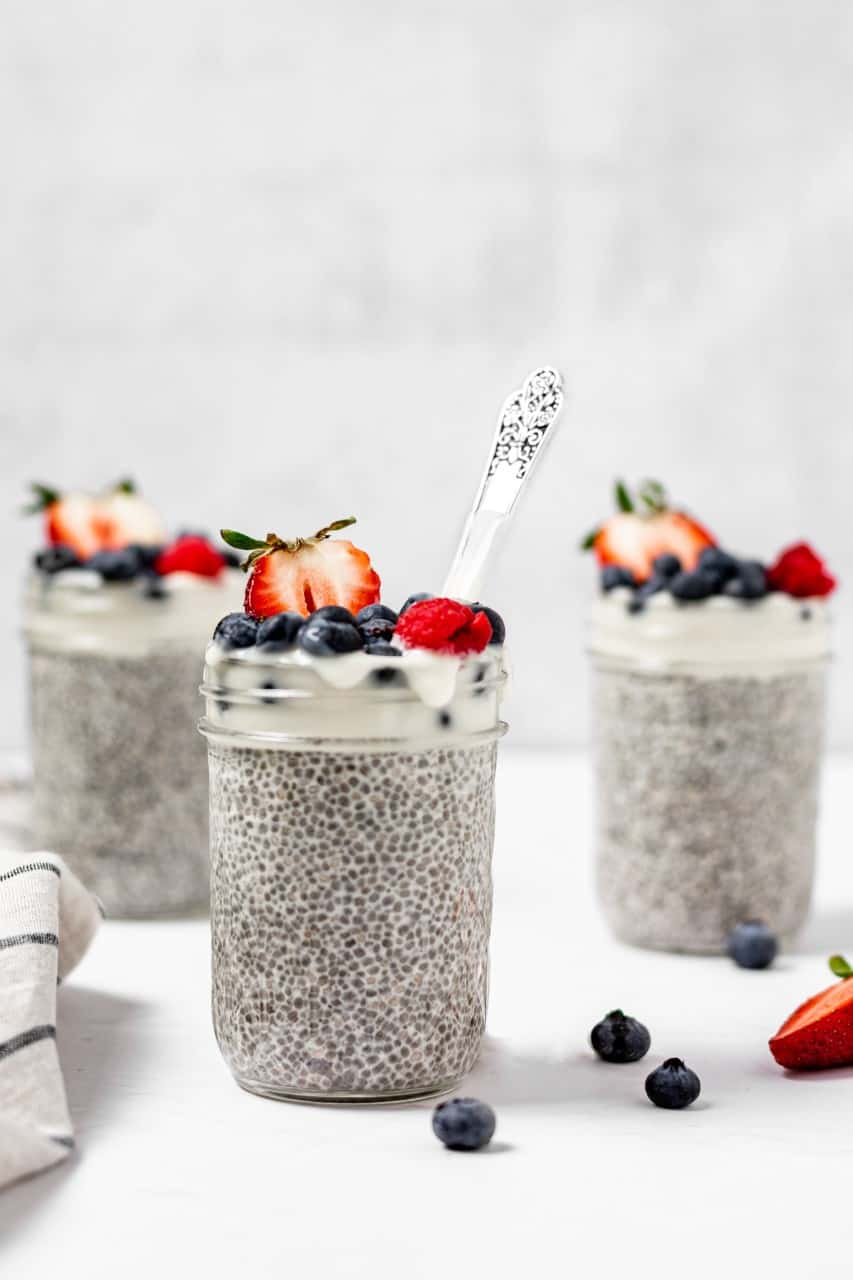 You'll find that this recipe is perfect as a base that can be expanded on or used in a variety of different flavored chia pudding recipes. Don't worry, I'll give you some ideas idea below (hint, hint...chocolate!!). This vanilla chia pudding is so easy & fast to make and only requires 1 bow! It's the perfect grab and go breakfast.
Jump to:
This overnight chia pudding is vegan, dairy-free, refined sugar-free, nut-free, and gluten-free!
Ingredients
This recipe only calls for 4 simple ingredients and you likely have most of them, if not all of them!
Chia Seeds: The star of the show! I always use these chia seeds but you could use whatever you have.
Plant-Based Milk: This is our binder for the pudding. I used coconut milk!
Maple Syrup: This acts our natural sweetener. Without it, I find this recipe a bit...bitter?
Vanilla Extract: because it makes everything better.
Instructions
Aside from how delicious it is, the best thing about this recipe is how easy it is to make. Grab a bowl and let's get to it!
In a large bowl, add plant-based milk, vanilla, maple syrup, and whisk to combine (photos 1-3). Next, add the chia seeds, and whisk well to combine. Let them sit for 5 minutes then whisk one more time to ensure that the seeds don't fall to the bottom of the pudding and set that way.
Cover the bowl with a dish towel and refrigerate for at least 1 hour, or overnight, for it to set. When it's set, it will look like photo 6. And that's it!! You can scoop it into a mason jar or bowl, add your preferred toppings, and enjoy.
Topping & Add-In Ideas
You can eat the vanilla chia pudding on its own, but what's the fun in that? Here's some of my favorite toppings to make this recipe complete:
Vegan yogurt
Fresh fruit
Granola
Nut butters and jams
Nuts and seeds
Protein Powder
Cocoa Powder (to make this a chocolate chia seed pudding!!)
Matcha Powder (to make matcha chia pudding!)
Recipe Substitutions & Variations
I love this recipe as is, but here are some tweaks that would work well, if needed!
Use a different milk: This recipe works great with almond milk, soy milk, cashew milk, or coconut milk. Coconut milk will result in a creamier chia pudding. If you do use coconut milk, you might need a bit more since it is a bit thicker. Honestly, just use whatever milk that you love and think tastes good.
Change up the sweetener: You do not have to use maple syrup, or any sweetener, at all! You can leave it out entirely and add it in later if you find it needs it (I think it does). In place of maple syrup, you could use agave or date syrup.
Feel free to use white chia seeds instead of black chia seeds, it makes no difference in taste.
Blend it if you don't love the texture of chia seeds! Blending it will give it the consistency of a regular, creamy pudding.
Expert Tips
Whisk!! Make sure you whisk all the ingredients well initially, and then again after 5 minutes before refrigerating the pudding. This will ensure that you don't get clumps of chia seeds and that they don't all sink to the bottom while the pudding is setting.
For the best texture refrigerate the pudding overnight. This will let the chia seeds absorb as much milk as they possibly can and will give the best texture.
Add more milk if the chia pudding is way too thick when you take it out the fridge. Add 1-2 tablespoons at a time until you reach a good consistency.
FAQ
What's the ratio for chia pudding?
4:1 - 4 parts liquid, 1 part chia seeds. For this recipe, I used 2 cups of milk and ½ cup of chia seeds. I find this ratio gives the perfect consistency for a pudding. For a thinner pudding, you can try a 6:1 (⅓ cup chia seeds, 2 cups milk). You can of course experiment with this ratio and adjust it to your liking!
Is this vegan vanilla chia pudding healthy?
Yes! Chia seeds are low in calorie yet packed with a ton of nutrients. To keep this recipe as healthy as possible, I would suggest using a plant-based milk with very clean/limited ingredients and reducing or changing the sweetener used.
What are the benefits of chia seeds?
So many things!! Chia seeds are small but mighty nutrient powerhouses. They're loaded with fiber, protein, omega-3 fatty acids, antioxidants, and various micronutrients. For more benefits, check out this evidence-based article.
Does it keep?
Yes, which makes this recipe perfect for meal prep! After the pudding has set, I divide into 4 mason jars (or any airtight container) and store them in the refrigerator for 5-7 days. I will usually add any toppings when I'm ready to eat it!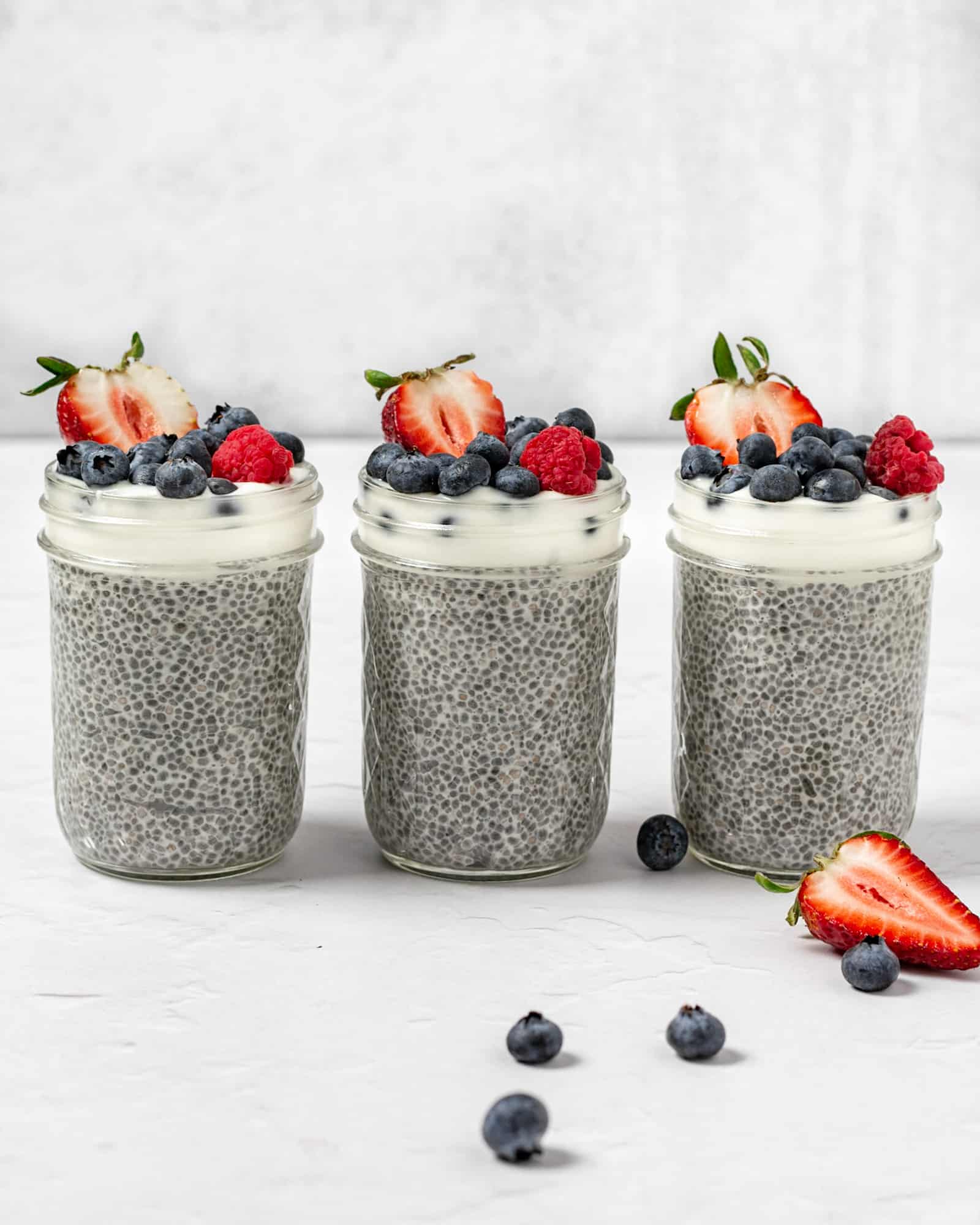 Other recipes you might like
If you make this vegan vanilla chia pudding, be sure to snap a pic and tag me on Instagram. If you have any questions or feedback at all, send me an e-mail or leave a comment below! I hope you love them as much as we do!
Print
📖 Recipe
Vegan Vanilla Chia Seed Pudding
---
Description
This vegan vanilla chia pudding is healthy yet delicious, made with only 4 ingredients that you likely already have, and takes less than 10 minutes to make. It's perfect for breakfast, a midday snack, or a yummy dessert. You can enjoy it on its own or with a variety of toppings!
---
½ cup

chia seeds

2 cups

plant-based milk, I used coconut milk

2 tablespoons

maple syrup

1 tablespoon

vanilla extract
---
Instructions
In a large bowl, whisk together plant-based milk, maple syrup, and vanilla. Add the chia seeds and mix well. Let it sit for 5 minutes, then mix it well once more to ensure the chia seeds don't clump or sink to the bottom.
Cover the bowl and refrigerate it for at least 1 hour, or overnight.
Remove from the fridge, scoop into a bowl or mason jar, top with your favorite toppings and enjoy.
Notes
Chia pudding can be stored in an airtight container, in the refrigerator, for 5-7 days.
For the best texture, refrigerate overnight.
Make sure you are whisking well initially and again 5 minutes later before you refrigerate.
Any milk For a thicker, creamier pudding, use coconut milk.
Nutritional values are estimates only. See our full nutrition disclosure here. 
Prep Time:

10 minutes

Category:

Breakfast

Method:

No Cook

Cuisine:

American
Nutrition
Serving Size:

¼ of recipe

Calories:

159

Sugar:

6g

Sodium:

44mg

Fat:

5g

Saturated Fat:

0g

Carbohydrates:

26.3g

Fiber:

6g

Protein:

3.2g
Keywords: chia pudding, vanilla chia pudding, chia seed pudding, vegan chia pudding