This matcha chia pudding is the perfect healthy breakfast! It's light, yet creamy and filling, and is loaded with matcha green tea flavor. You only need 5 ingredients and it's a great option for anyone who is looking for a quick & easy, grab and go meal!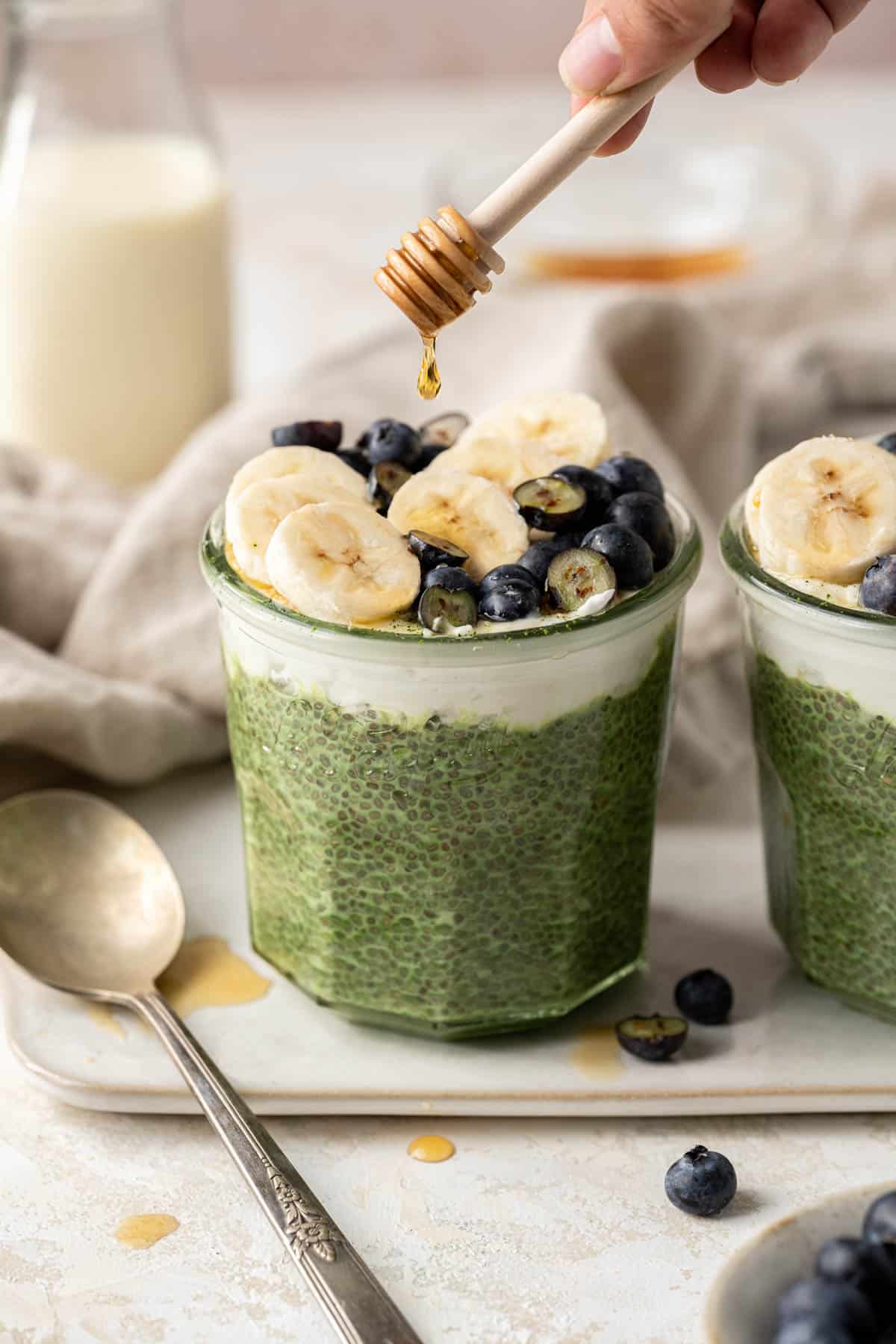 It's exactly like a classic chia pudding, just with the addition of matcha powder! So if you're a matcha latte fan, you're seriously going to love this recipe. Similar to these matcha brownies, the matcha flavor is not overpowering in the slightest.
It's great to enjoy for breakfast, as a snack, or as a light dessert. It's also a great easy meal prep option so you're set up for the week!
Jump to:
Why you'll love this recipe
It's quick & easy to make as you only need 1 bowl, 6 ingredients, and 5 minutes for prep.
It will keep you full for hours! Chia seeds are incredibly filling, so you will feel satisfied after eating a jar.
Great option for meal prep. Because this creamy matcha chia pudding recipe only takes a few minutes prep but does have to set for at least a couple of hours, it's the perfect make-ahead easy healthy breakfast, post-workout meal, a delicious snack or dessert. You can make a big batch that will last you throughout the week, or could be frozen so you always have it on hand!
It's healthy & packed with antioxidants and nutrients such as omega-3s, 15 grams of fiber, plant-based protein and healthy fats.
Equipment
The equipment you need is so basic:
Medium bowl
Whisk
Airtight container or mason jar
I strongly recommend using a whisk instead of a spoon to ensure that the chia seeds are evenly distributed and there are no clumps.
What are chia seeds?
Chia seeds are black or white tiny seeds that come from the salvia hispanica plant, which is native to Central America. They were a staple in the ancient Aztec and Maya diets due to their health benefits.
Chia seeds have a neutral taste and can be eaten raw or mixed into liquids like smoothies, vegan yogurt or plant-based milk. When raw, they're crunchy and great on salads. When mixed with liquid, they plump up and result in a gel-like consistency, as seen in the classic chia pudding that we all know and love.
They're packed with fiber, protein, omega-3s fatty acids, antioxidants, and various micro-nutrients.
Ingredients
This matcha chia seed pudding is so quick and easy to throw together and only calls for 5 simple ingredients that you likely already have on hand.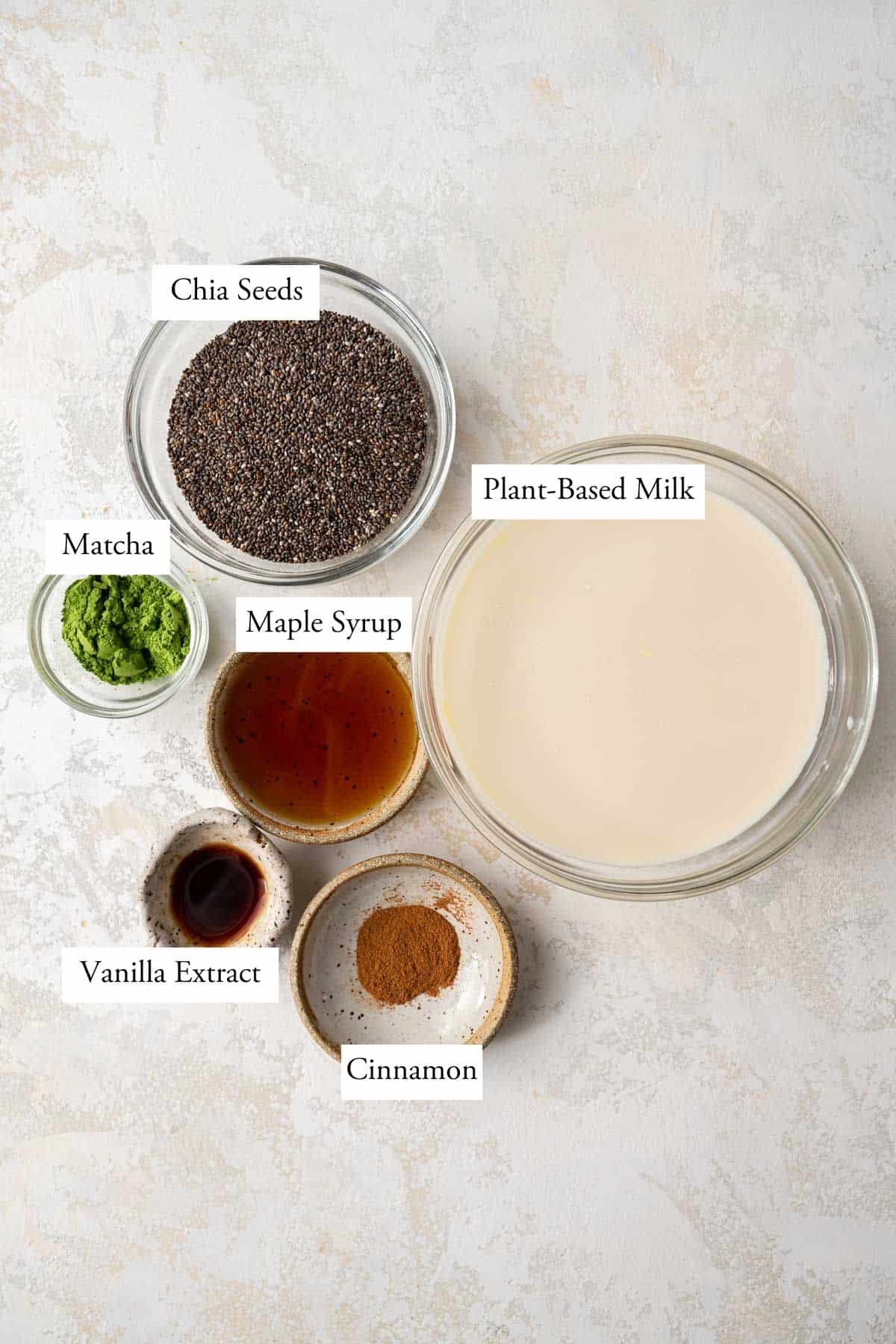 Chia Seeds: the star of the show! You can use white or black chia seeds for this recipe. I went with black chia seeds, as I had them on hand.
Non-Dairy Milk: I used soy milk but I've previously made this with a combination of coconut milk and homemade oat milk that also worked perfectly.
Matcha Powder: there are 3 different kinds of matcha powder: culinary grade, ceremonial grade, and premium grade. Culinary grade is best for baking and cooking. It's the most bitter of the three and the most dull in color. Ceremonial grade is vibrant and traditionally used for Japanese tea ceremonies. Premium grade is vibrant and used for daily consumption. I recommend using ceremonial grade (like I did) or premium grade for the best flavor and color. But honestly, whichever you have on hand will do the trick.
Vanilla Extract: a must!
Pure Maple Syrup: to act as our natural sweetener. This will help cut the bitterness of both the chia seeds and matcha powder.
See recipe card below for a full list of ingredients and measurements.
Variations & Substitutions
I love this green tea chia pudding recipe as is but here are a few variations you can try that will work perfectly!
Use a different type of milk! This recipe works great with unsweetened almond milk, soy milk, cashew milk, or rice milk. Coconut milk will result in a thicker, creamier chia pudding which is why I chose it. Feel to use just 1 milk instead of 2 and use whatever milk that you love or just have on hand.
Instead of maple syrup you could use a different sweetener such as monk fruit sweetener, agave, date syrup, vegan honey, coconut sugar, stevia or cane sugar. You could also leave out the sweetener entirely but I do not recommend it, as matcha powder and chia seeds have a more bitter taste.
Feel free to use white chia seeds instead of black chia seeds, it makes no difference in taste or texture.
For a thicker pudding, add another tablespoon or two of chia seeds. For a thinner pudding, use fewer chia seeds or add a bit more plant-based milk.
If you don't love the texture of chia seeds, blend 'em up! Blending the chia seeds will give it the consistency of a regular, creamy pudding.
Make a chia pudding parfait by alternating chia pudding, raspberry jam and vegan greek yogurt in a mason jar.
This recipe has not been tested with any other substitutions or variations than the ones listed above. If you replace or add any ingredients, please let us know how it turned out in the comments below!
Instructions
Chia pudding is incredibly easy and quick to make! It only takes a few minutes to prep, then it gets put in the fridge overnight or for at least 1 hour in order for it to set.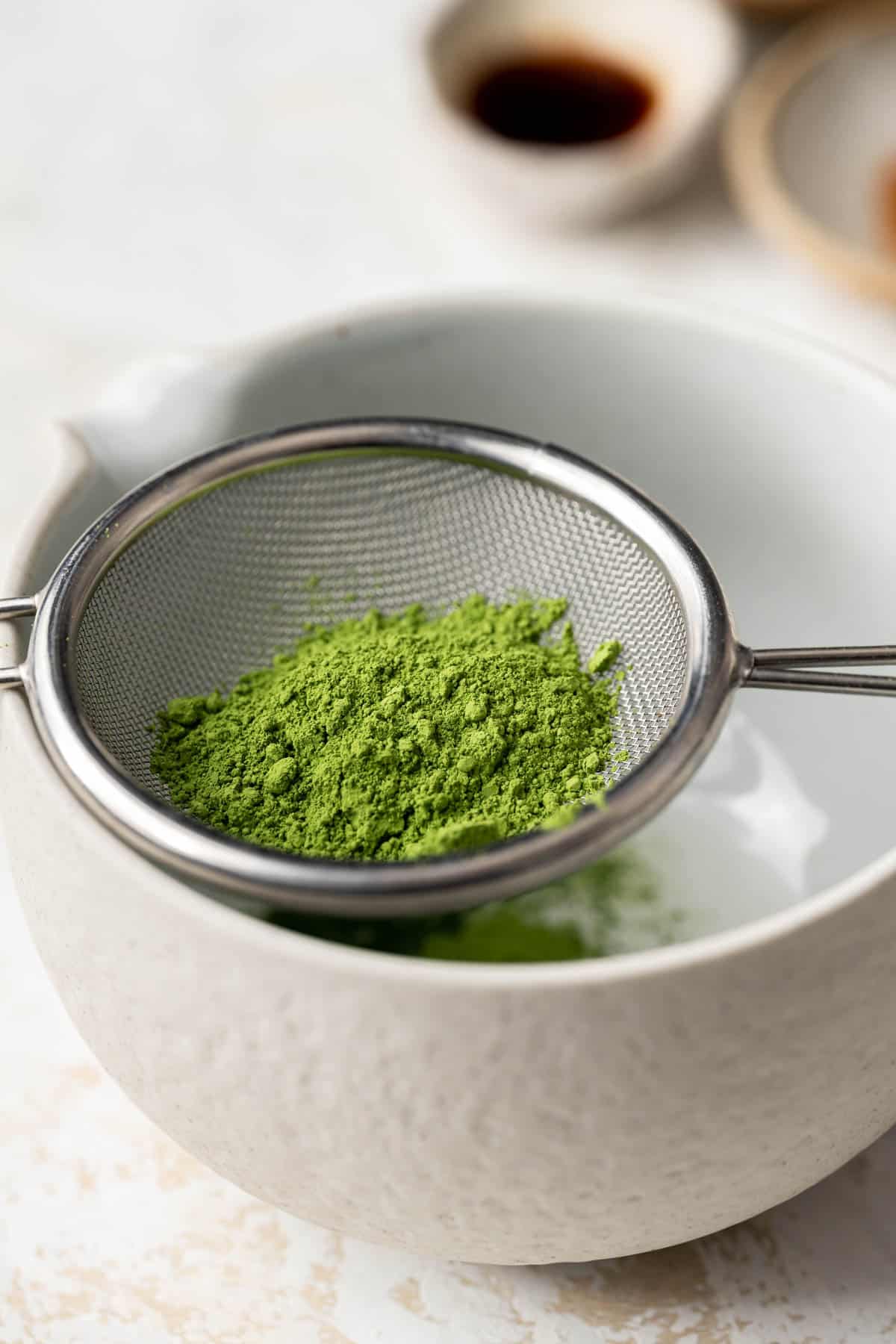 Step 1: Using a fine mesh strainer, sift the matcha powder into a small mixing bowl or a matcha bowl.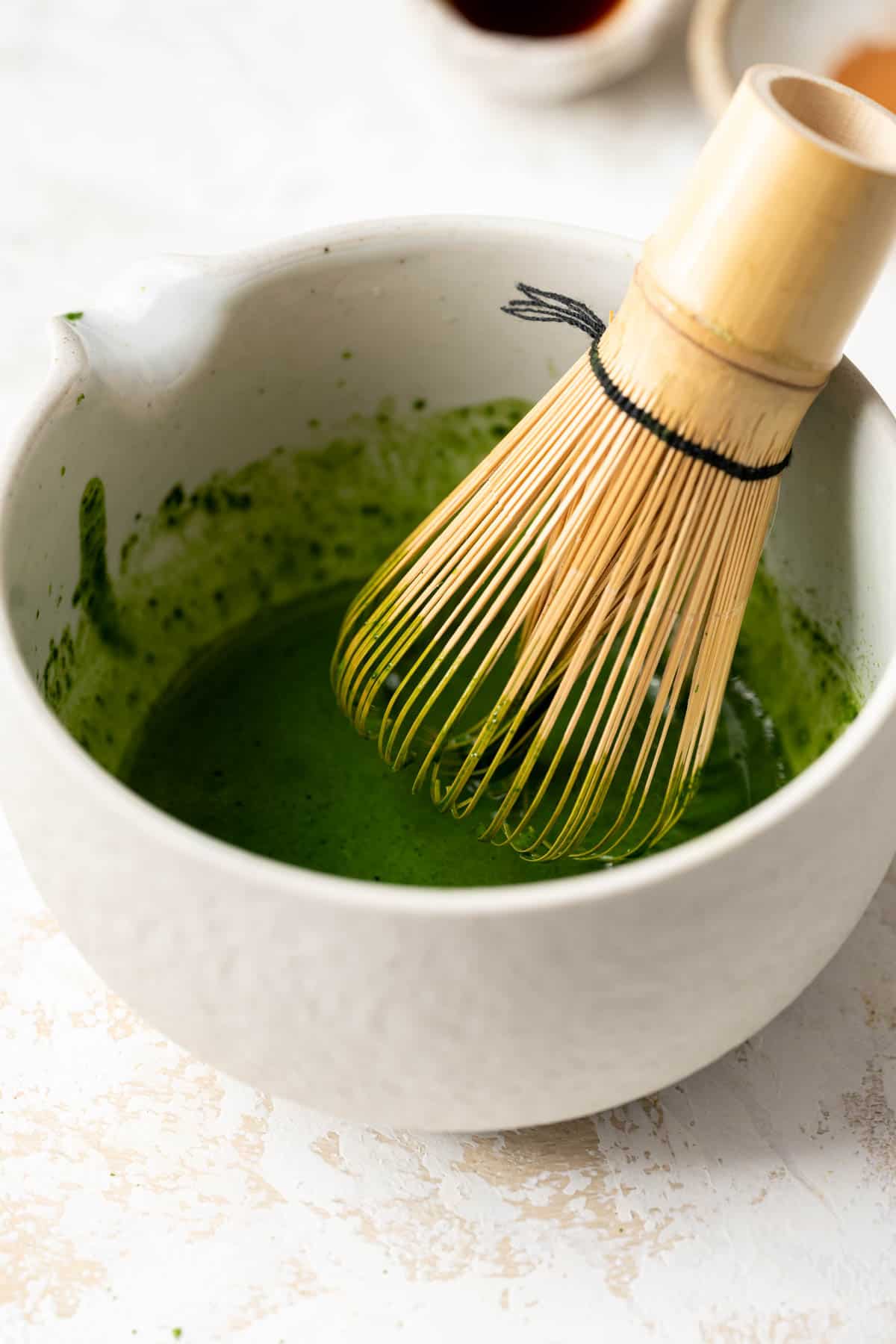 Step 2: Pour in hot, but not boiling water, to the bowl and using a matcha whisk, quickly whisk in a 'W' shaped motion, or until the powder has dissolved and there is a smooth paste with bubbles on top.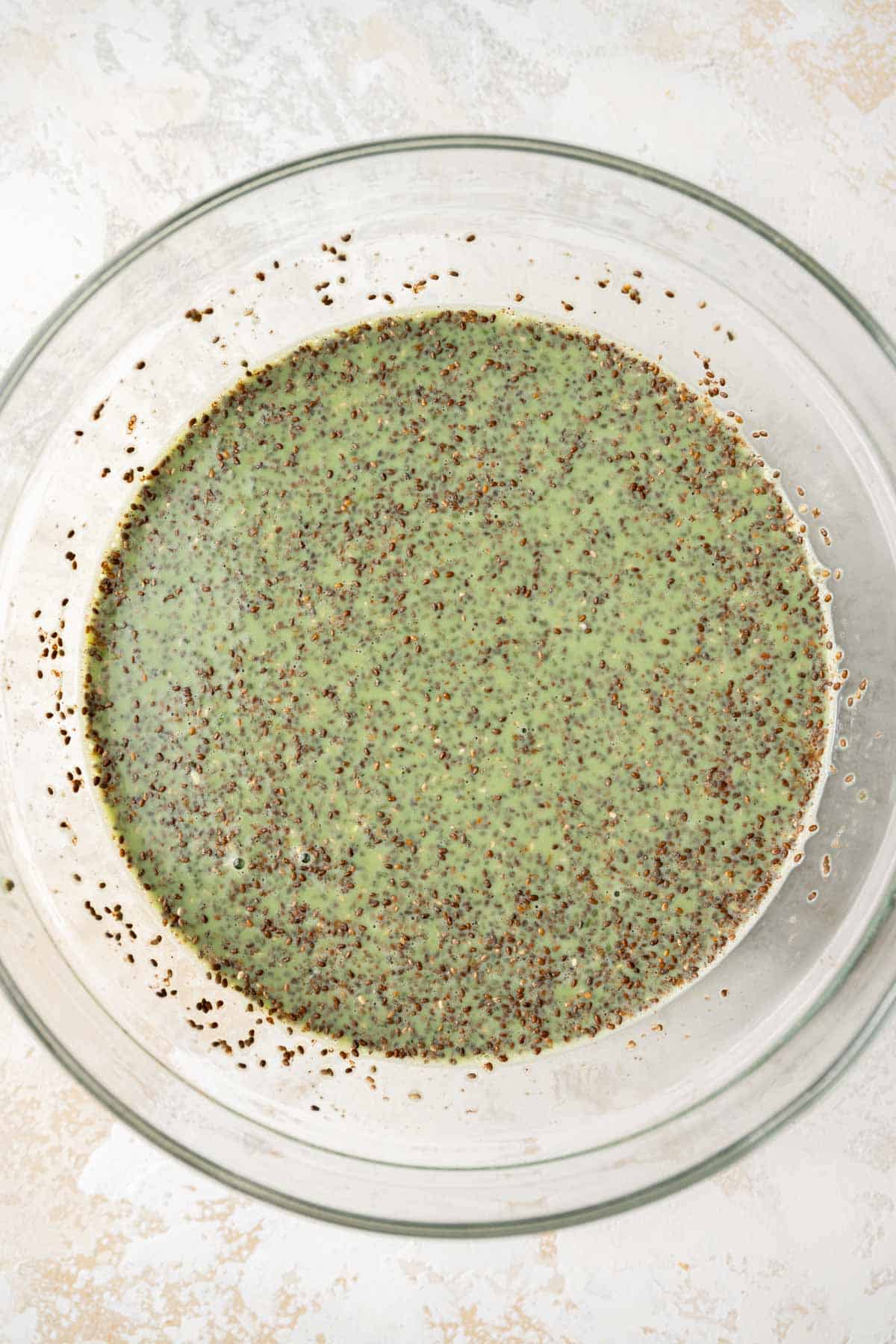 Step 3: Add all ingredients to a large bowl and whisk to combine. Let sit for 5 minutes then whisk once more to ensure the chia seeds don't clump up or sink to the bottom of the pudding.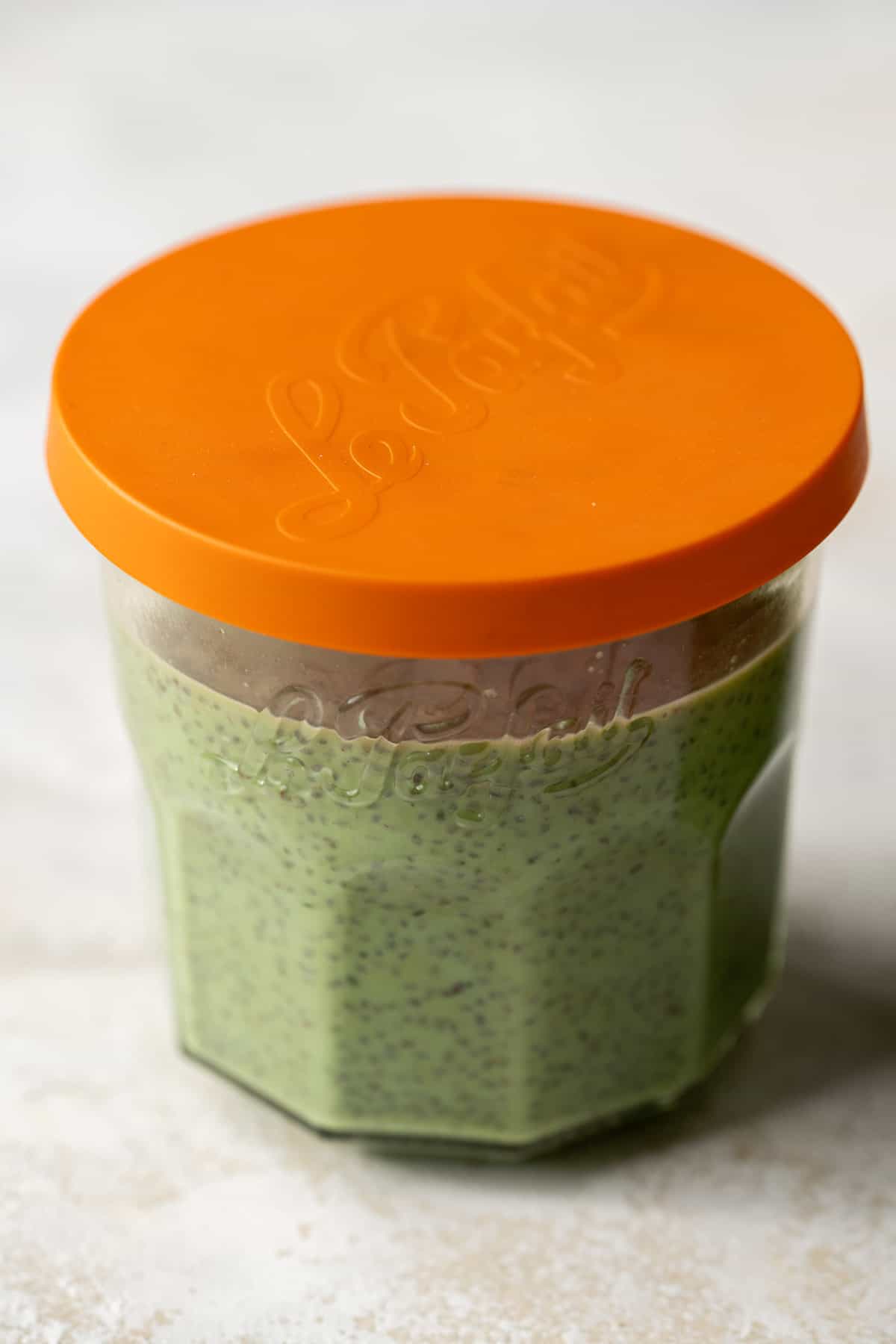 Step 4: Cover the bowl with a dish towel or divide the chia pudding into 3-4 sealable mason jars and loosely cover each with the lid. Refrigerate overnight, or for at least 2-4 hours, to allow the chia pudding to set.
The next morning, or whenever you're ready to eat, remove from the fridge, add your preferred toppings, and enjoy!
Topping & Add-In Ideas
You can leave your matcha chia pudding as is, or feel free to top it with one or more of these suggestions:
Add-ins
Spices (cinnamon, cardamom, turmeric, ginger)
Vanilla protein powder
Mint extract
Toppings
Coconut cream (as pictured)
A sprinkle of matcha powder
Vegan vanilla yogurt
Bananas
Fresh fruit or fresh berries (strawberries, blueberries or raspberries are wonderful with this!)
Mangoes or pears
Coconut flakes
Slivered almonds
Pistachios
Nut butter
Cacao nibs
Granola
📌 Note: If adding protein powder or additional spices, mix them in with the dry ingredients, prior to adding the liquid ingredients.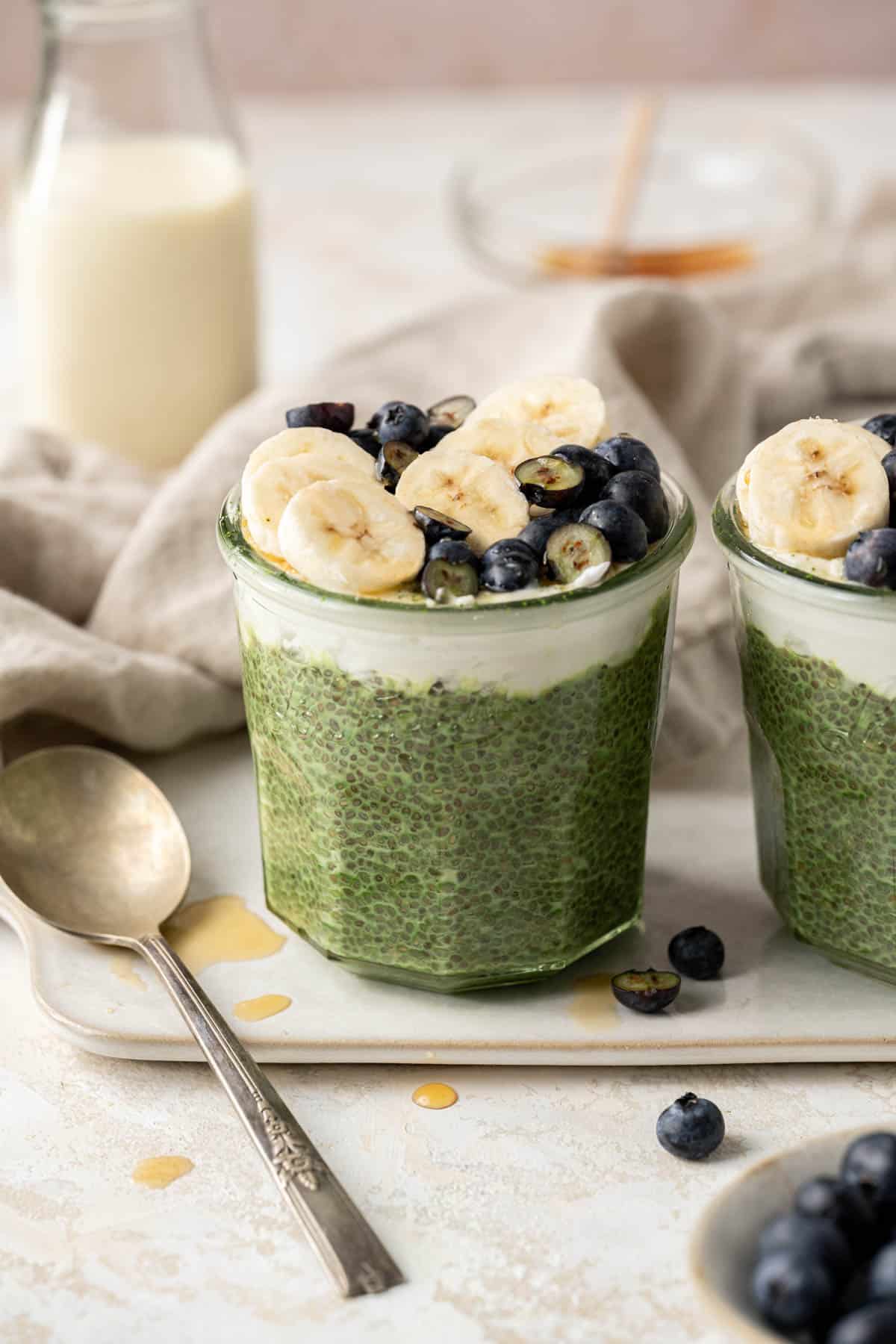 Expert Tips
Sift & whisk the matcha powder! This is just an extra 3 second step that makes such a difference. Sifting your matcha will ensure that there are no clumps floating around in the pudding. Otherwise, you'll likely have a few very grassy spoonfuls.
Whisk! Make sure you whisk all the ingredients very well initially, and then again after 5 minutes before refrigerating the pudding. This will ensure that you don't get clumps of chia seeds or matcha powder.
For the best texture refrigerate the pudding overnight. This will let the chia seeds absorb as much milk as they possibly can and will give the best texture.
If you don't have the time to let it set overnight, let the pudding thicken for at least 2-4 hours. The chia seeds need time to plump up and thicken! This amount of time will allow for that and the pudding will be fully set.
Add more milk if the chia pudding is way too thick when you take it out the fridge. Add 1-2 tablespoons at a time until you reach a good consistency.
Storage Tips
Refrigerator: This vegan matcha pudding can be stored in the fridge in an airtight container for up to 5-7 days. When you're ready to eat, give it a good stir then add your preferred toppings.
Freezer: Store in an airtight container or freezer-friendly bag in the freezer for up to 3 months. I recommend freezing this without any toppings. Allow to thaw in the fridge overnight, mix well then add your toppings!
FAQ
What are the benefits of matcha powder?
Matcha powder is high in antioxidants and vitamins, it contains L-theanine and can help reduce stress, it can speed up your metabolism and boost fat burning, it can help lower cholesterol and so much more.
What are the benefits of chia seeds?
Chia seeds are loaded with antioxidants and are an excellent source of fiber, plant-based protein, omega-3 fatty acids, and various micronutrients. Although incredibly filling, they are low carb and help to balance blood sugar levels. 
Is matcha chia pudding good for you?
Yes!! Matcha powder and chia seeds are excellent choice for essential minerals like calcium, manganese, magnesium, and phosphorus. It's a great healthy option that is great for your skin, gut and overall health.
Does matcha have caffeine?
Yes, but it's a small amount that won't leave you with the jitters you might get from coffee!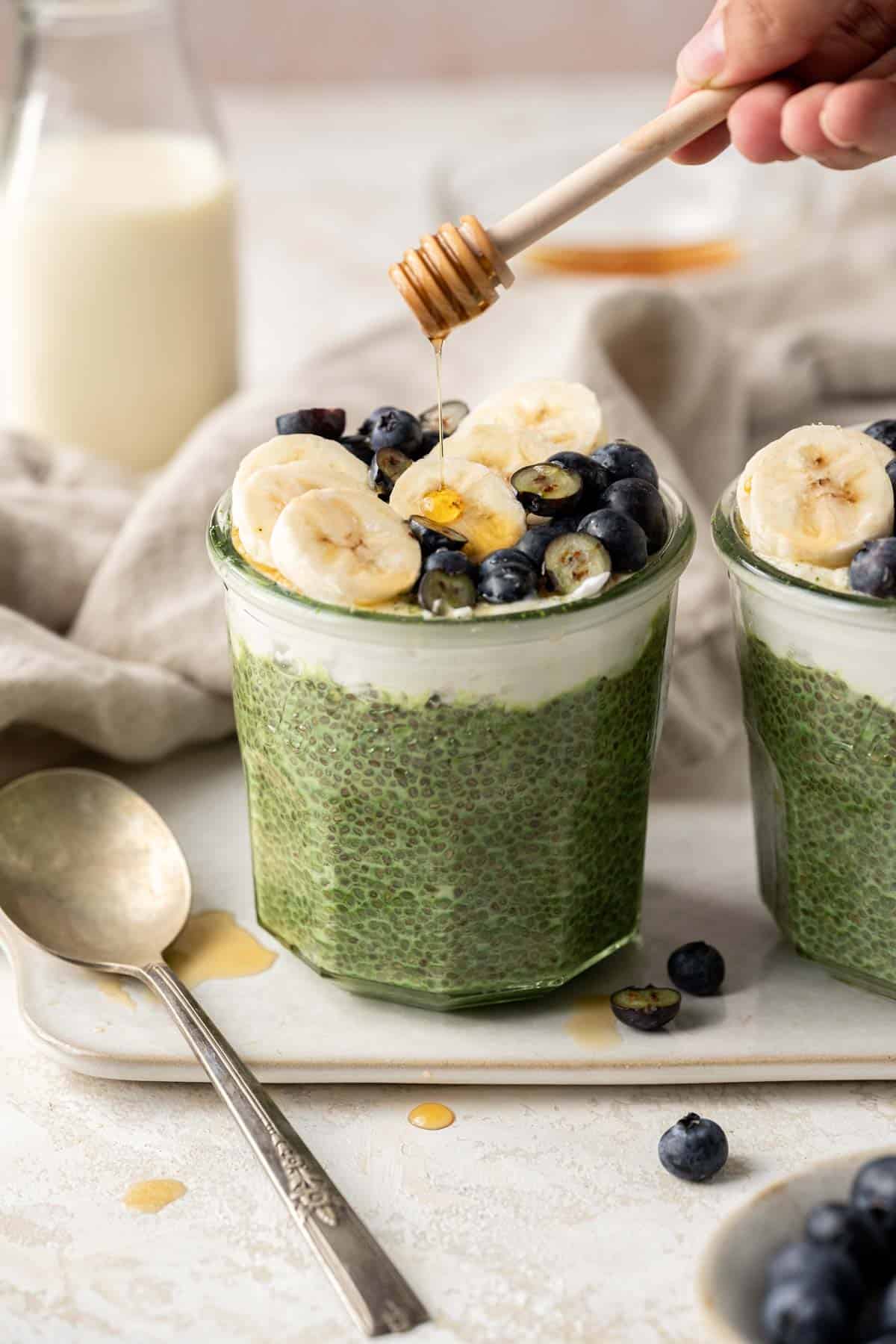 Other recipes you'll love
Be sure to leave a comment and ⭐️ rating down below if you try this recipe! Subscribe to my newsletter and follow along on Instagram for more recipes and updates.
📖 Recipe
Matcha Chia Pudding
This 5 ingredient matcha chia pudding is the perfect healthy breakfast! It's light, yet creamy and filling, and loaded with matcha green tea flavor.
Ingredients
½

cup

(

96

g

) chia seeds

2

cups

(

480

mL

)

plant-based milk

2

teaspoons

matcha powder

sifted & whisked

3

tablespoons

(

45

mL

)

water

heated to at least 130F

2-3

tablespoons

(

30-45

mL

)

maple syrup

1

teaspoon

vanilla extract

¼

teaspoon

cinnamon

optional
Instructions
Place a fine mesh strainer over a small mixing bowl or a matcha bowl. Add matcha powder onto the strainers mesh. To sift the matcha, push the powder through the mesh with the back of a measuring spoon, letting it fall directly into the bowl.

2 teaspoons matcha powder,

3 tablespoons water

Add hot, but not boiling, water to the bowl and with a matcha whisk, whisk quickly in a "W" shaped motion until the matcha powder has fully dissolved and a watery paste with many tiny bubbles on the surface has formed.

Add all of the ingredients to a large mixing bowl and whisk vigorously to combine. Let the mixture sit for 5 minutes then mix it once more.

½ cup chia seeds,

2 cups plant-based milk,

2-3 tablespoons maple syrup,

1 teaspoon vanilla extract,

¼ teaspoon cinnamon

Cover the bowl with a dish towel or divide the chia pudding into 3-4 sealable jars and cover with their respective lids.

Refrigerate overnight, or for at least 2 hours, in order for the chia pudding to set. When you're ready to eat, remove from the fridge, add your preferred toppings, and enjoy!
Notes
Store in an airtight container in the fridge for up to 5-7 days or in the freezer for up to 3 months. 
Nutritional values are estimates only. See our full nutrition disclosure 
here
. 
Nutrition Facts
Serving:
0.25
Cup
|
Calories:
304
kcal
|
Carbohydrates:
34.5
g
|
Protein:
10.9
g
|
Fat:
17.3
g
|
Saturated Fat:
4
g
|
Sodium:
63
mg
|
Fiber:
14.9
g
|
Sugar:
15.6
g