hey hi hello, welcome!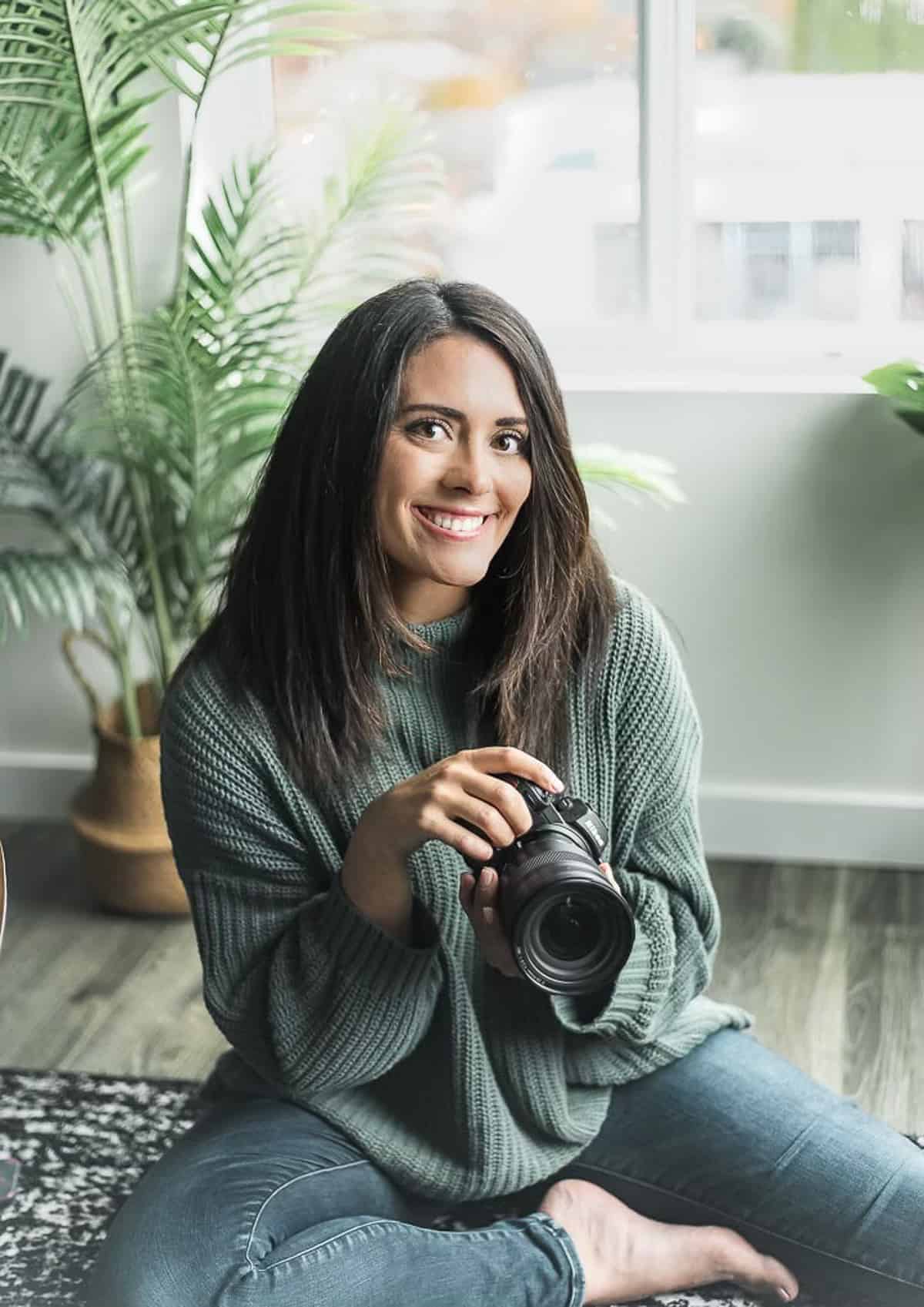 I'm Lauren!
Here at Pinch of Parsley, I teach you how to veganize & elevate your favorite recipes and master vegan cooking at home!
Let's start from the beginning
I'm from Long Island, New York where I was raised by my 2 self-employed parents: my mom, a photographer and my dad, a videographer (which all seems rather ironic now)! Growing up, I just ate what my parents cooked, which might be considered a 'standard' American diet.
There was always some kind of meat on the majority of the plate. I used to eat sushi with my friends, cheese with my mom, and burgers and seafood with my dad every single week. I honestly couldn't tell you about a meal I had growing up that didn't have meat or dairy in it. But what I can tell you is that growing up this way made me a seriously picky eater. If I saw an herb on a dish, immediately picked off.
So what the heck changed?!
Let's rewind briefly back to 2018. I was feeling sluggish and honestly flat out insecure with my body, my lifestyle, the list goes on. So I decided to do a '21 day reset.' Don't worry, it wasn't a juice cleanse - it was simply going back the basics and encouraging me to add more fruits, vegetables and grains to my meals. But there was 1 caveat that I was torn with: you were supposed to be vegan for the full 21 days. This was a shock to my brain. There's no way I could do that, right? Luckily, there was an option to just reduce my meat intake to 3 meals a week. Fine, I'll go that route.
PSYCHE. The night before I was starting this reset, a documentary (an exposé, if you will) was released about the practices of a well known dairy company. I decided to watch and I felt sick to my stomach. I'm a huge animal lover so I also felt a little bit like a hypocrite after watching it. So...I decided to give being vegan a try for just the required 21 days. Yup, cold turkey (lol).
It's been nearly 5 years and I've never looked back.
It definitely was and still sometimes is a shock to my family and others (and even myself some days). But, I've never felt better and going vegan kind of forced me to try to new, delicious foods that I would have NEVER tried before.
How did you start Pinch of Parsley?
I always have enjoyed cooking but becoming a vegan while surrounded by non-vegans (seriously, nobody in my life was vegan) caused me to have to cook for myself. I started with veganizing the basics and my favorite dishes, then when I got comfortable, I started to try to make more creative dishes and try new dishes entirely. I fell in love. I am definitely self-taught and still have terrible knife skills.
In September 2020, in the height of the pandemic, I decided I needed a hobby to pass the time since there was nothing else to do. So I made an instagram page called 'Solo Vegan Chick(pea).' I took quick pictures on my phone and posted them for my friends and family with the recipe in the caption.
People started to follow me and ask for specific recipes while I started to follow established food bloggers. I realized I could do this as my job! I could help people try more vegan foods that actually tasted great.
Let's circle back to my photographer/videographer parents - I told them I wanted to create a blog and pursue this as a potential career. They let me use a super old Nikon camera to practice with and I took all of the photography and blogging courses I could. Once I felt ready, I purchased all of my own gear and dove right in.
In March of 2021, I changed my name to Pinch of Parsley and launched this website you're reading right now! It's been such an amazing experience and I can't wait to continue to grow with you.
What will you find on Pinch of Parsley?
A collection of plant-based recipes that you can make in different circumstances (weeknight dinners, date nights, holiday meals, desserts, etc.) that have one thing in common: they will always be easy to follow (& make) and bursting with flavor.
Insight into which ingredients to use to best mimic classic comfort foods and meat or dairy substitutes.
Resources that will help make going plant-based or vegan a breeze like this guide on how to eat vegan at any restaurant.
Principles of vegan flavor and cooking techniques that will make you a more confident cook!
More about Lauren & the blog
Why do you love to cook?
I didn't realize this until my therapist said it (hayyyyy Kerry), but cooking is such a mindful activity for me. Whenever I cook, nothing else seems to matter. My mind is so suspiciously quiet and I'm so focused on the dish I'm making. It allows me to be creative (even if it doesn't always result in a good dish) and to feel at peace.
What's your favorite ingredient to cook with?
Uh...just 1? Garlic.
What's your favorite cooking philosophy?
You're worth it. You deserve to have fun in the kitchen and eat seriously delicious food that doesn't compromise on flavor and makes you feel good.
Which recipe do you recommend for someone that's new to vegan food?
YAY I'm so excited that you want to try out some vegan goodies! You'll find a lot of my recipes are classics that I've veganized easily with some plant-based alternative swaps. If you want something that's totally NOT intimidating and plant-based, try this buddha bowl. If you love soup, try the broccoli cheddar soup. It's seriously identical to Panera's and easy to make. If you're feeling daring and you want to try to tofu, try my sesame ginger tofu poke bowl.
Which recipe do you recommend to a vegan looking for something 'different?'
Ah so you don't want a basic plant-based recipe? Try my vegan calamari, all the way. If you liked calamari before going vegan, I promise you'll love it.
Do you have any non-vegan recipes?
Nope! All of the recipes on my site are 100% vegan. If you like what you see but don't have/don't want to buy vegan alternative products, you can easily swap it out with a 'regular' product. For example, my smashed potato recipe uses plant-based butter, you can just use regular butter! The majority of things can be swapped at 1:1 ratio with no issue. If you ever have any questions, just let me know 🙂
I have a recipe idea, will you make it for me?
Maybe! I always love hearing your feedback and suggestions. Send me a message and I'll look into it!
Lauren's Favorite Recipes