This rich and creamy vegan garlic aioli is exactly what you need to elevate any dish. It's quick and easy to make, as this recipe only calls for 5 ingredients and 5 minutes. This flavorful sauce is perfect to use as a spread on sandwiches, a dip for veggies or crispy cauliflower bites, or drizzled across buddha bowls!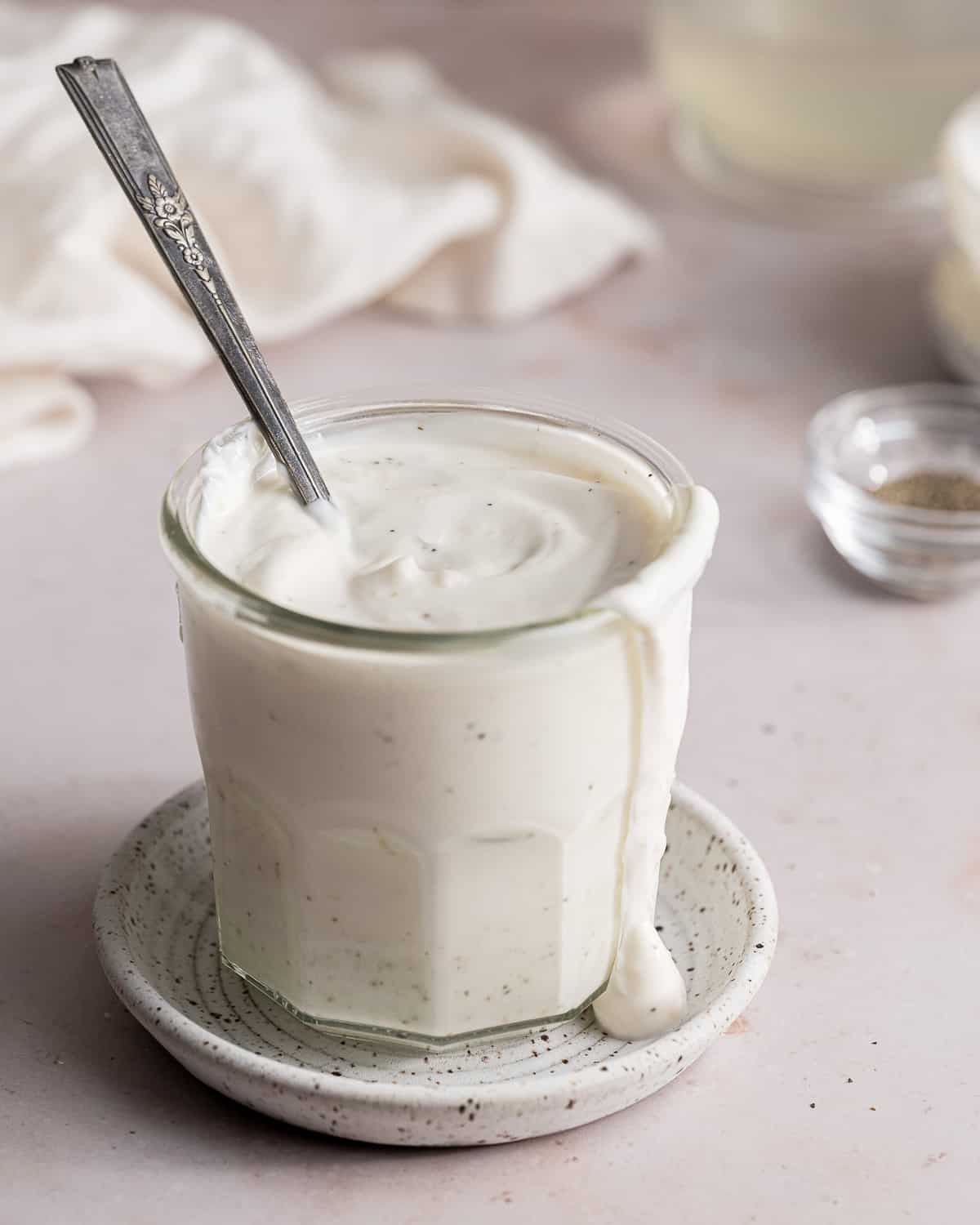 Jump to:
Traditionally, aioli is an emulsion of oil, egg yolks, garlic, lemon juice, salt, and black pepper. It's really just a fancy way of saying garlic mayonnaise. However, you can easily make vegan aioli without using any eggs by using store-bought vegan mayo as the base, like we will here!
This vegan garlic aioli is super creamy and bursting with fresh flavors! The best part about it is how simply and quickly it comes together. I swear it's going to be your new favorite thing to use as a spread and dip!
Why you'll love this recipe
Ingredients
This recipes only requires 5 simple ingredients, most of which you likely already have lying around your kitchen!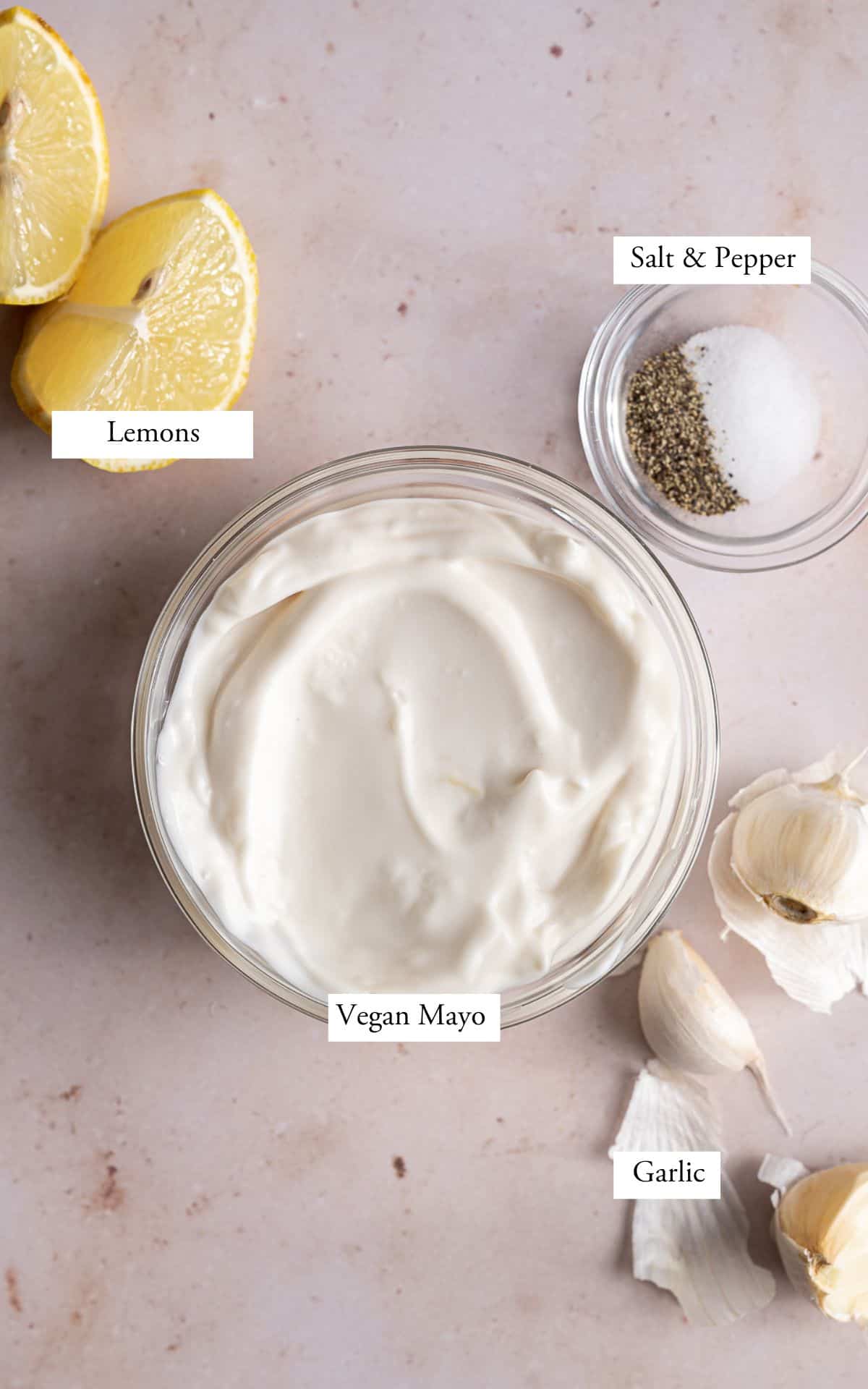 Time Saving Tools
Citrus Squeezer - You can definitely just squeeze the lemons with your hands but I find using a squeeze so much easier. It catches all of the seeds, doesn't leave any lemon juice behind, and won't burn any tiny cuts you might have on your hands.
Garlic Press - I always use a garlic press! It minces your garlic cloves in mere seconds and it's so much easier than trying to cut an already small ingredient.
Instructions
When I said this recipe was simple and takes only 5 minutes, I wasn't kidding!
In medium sized bowl, add the vegenaise, lemon juice, minced garlic, salt and pepper. Use a small whisk to combine the ingredients until smooth! Taste and adjust the seasonings to your preference.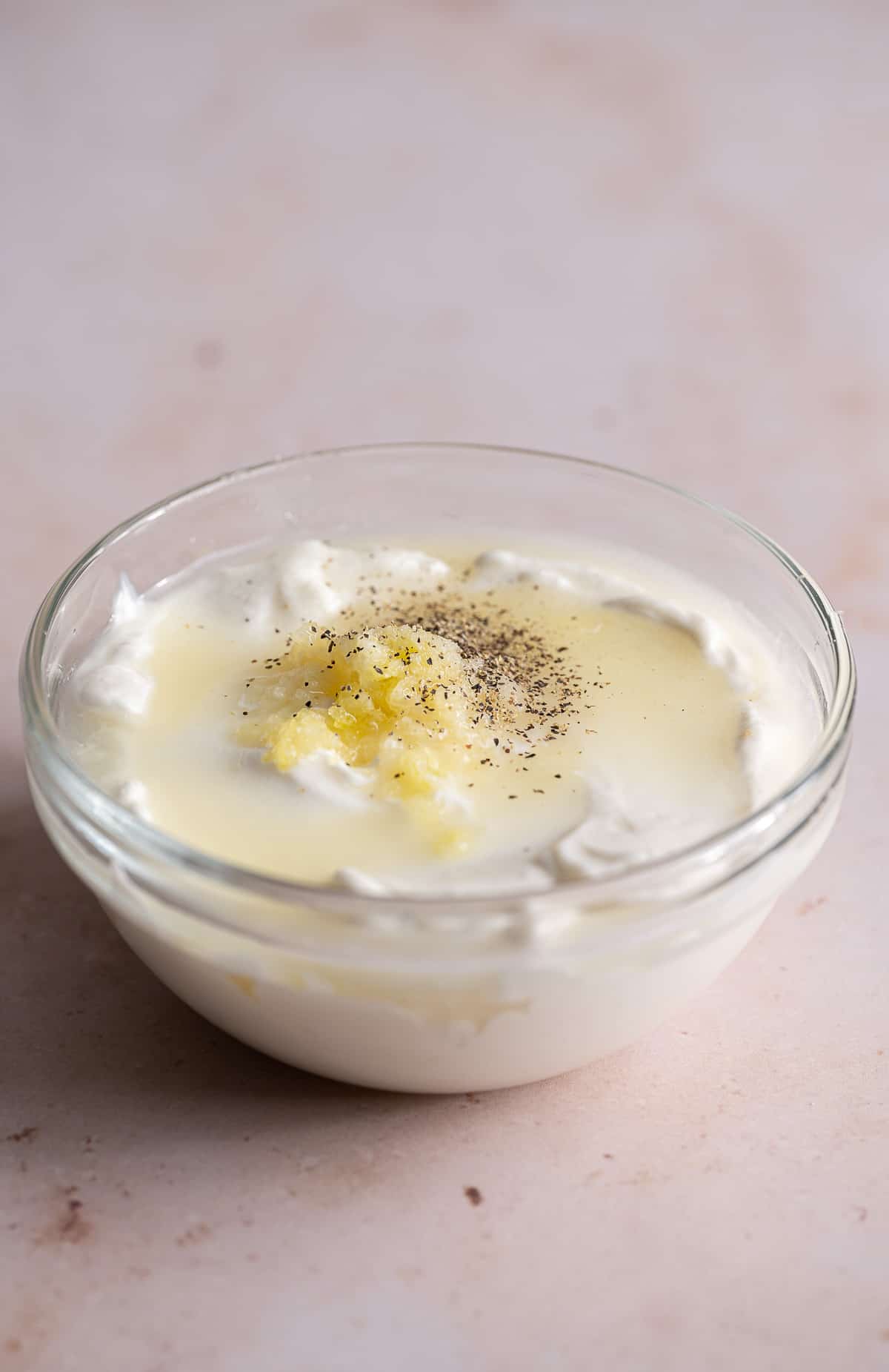 yup, THAT'S IT!
Variations & Substitutions
I think this recipe is perfect as is, but it's really customizable and can be quickly transformed by changing or adding even just 1 ingredient. Here are my favorite ways to play around with this vegan aioli:
Use lime juice or vinegar instead of lemon juice. If you choose to use vinegar, add 1 teaspoon (as opposed to 1 tablespoon) at a time until you've reached your desired taste. Lime juice you can sub in at a 1:1 ratio.
Add herbs like dill or basil to add a bit more freshness and flavor!
Make it spicy! Easily turn this into vegan chipotle aioli by simply adding ⅛ teaspoon of chipotle powder.
Swap out fresh garlic for garlic powder by using ½ teaspoon of garlic powder in place of the 2-3 fresh garlic cloves. Taste and adjust to your preference.
Turn this into vegan black garlic aioli by using black garlic. Not only will you get an extra boost of antioxidants, you'll get a sweeter, umami flavor.
Mash in a ¼ of a ripe avocado to create avocado garlic aioli.
If you're feeling extra fancy, drizzle in ½ to 1 tablespoon of truffle oil.
Skip the vegan mayo by swapping it with ½ cup of soaked, raw cashews. Blend the cashews into ¾ cup of water until smooth then mix in the rest of the ingredients!
Use roasted garlic instead of raw garlic for a sweeter, more mellow garlic flavor. To roast the garlic, preheat your oven to 400 degrees F. Start by cutting off the very top (~¼-½" inch) of the garlic head so that the inside of each clove is exposed. Place the head of garlic on a piece of aluminum foil and drizzle 1-2 teaspoons of olive oil over the top of the garlic. Use your fingers to spread the oil around. Next, fold the foil over the head of garlic so that it is completely covered. Place the foil wrapped garlic directly on the oven rack and bake for 45 minutes, until the garlic is soft and lightly browned. Allow to cool for 5-10 minutes before squeezing in 2-3 garlic cloves. Save the rest of the roasted garlic for pasta, toast, and more!
Serving Suggestions
This garlic aioli pairs perfectly with sooo many things! Here are some of my favorite ways to serve it:
There are very few things that WOULDN'T be even better with a dollop of this!
Expert Tips
Before you cut into the lemon, press your palm firmly roll it back and forth on the counter a few times to loosen up the juice. This will ensure optimal flavor!
To avoid the garlic being clumped together in the sauce, don't throw it all in at once. Instead of maybe prepping all of your ingredients ahead of time just mince one garlic clove, add it to the mayo and whisk vigorously. THEN mince the next garlic clove, add it to the mayo and whisk vigorously.
Storage Tips
Refrigerator: Store this eggless aioli in an airtight container for up to 1 week. Just give it a quick stir before serving! If it smells funky, if the color changes, or if there are mold spots, you should discard it immediately.
Freezer: Technically you could freeze, but I would not recommend doing so. Unfortunately, aioli does not freeze well. The aioli will end up separated and greasy, making it pretty useless.
Room temperature: I would not recommend storing it/leaving out at room temperature for a long period of time. Only leave it at room temperature for as long as you're serving it.
FAQ
What is vegan garlic aioli made of?
Traditional aioli is made up of garlic, olive oil, and egg yolks for extra emulsion. Many today simply use mayo as base and add garlic and olive oil. This vegan garlic aioli recipe is made of vegan mayo, garlic, lemon juice, salt & pepper. Other vegan garlic aiolis you come across may use soaked & blended cashews, aquafaba, tofu, or even just oils as the base (instead of mayo) along with garlic and other oils and spices.
Is aioli just garlic mayonnaise?
Pretty much, yes. The only difference between the two is that garlic aioli is always made with garlic and sometimes olive oil, where as mayo typically uses a more neutral tasting oil.
Is Subway's garlic aioli vegan?
Subway's regular garlic aioli is not vegan, as it contains liquid egg yolks. However, they did recently come out with a vegan version that is made up of soybean oil, garlic, mustard and parsley!
Other recipes you might like
📖 Recipe
5 Minute Vegan Garlic Aioli (Just 5 Ingredients!)
This rich and creamy vegan garlic aioli is exactly what you need to elevate any dish. It's quick and easy to make, as this recipe only calls for 5 ingredients and 5 minutes. 
Ingredients
½

cup

(

125

g

)

vegan mayonnaise

2

(

9

g

)

garlic cloves

minced

1

tablespoon

(

12

g

)

fresh lemon juice

½

teaspoon

salt

¼

teaspoon

black pepper
Instructions
To a medium bowl, add vegan mayo, minced garlic, lemon juice, salt, and black pepper.

½ cup vegan mayonnaise,

2 garlic cloves,

1 tablespoon fresh lemon juice,

½ teaspoon salt,

¼ teaspoon black pepper

Whisk vigorously until fully combined and smooth.

Serve chilled or at room temperature as a dip, sauce or spread. Enjoy! 
Notes
Store leftovers in an airtight container in the fridge for up to 1 week.
Nutritional values are estimates only and only reflect the calamari, not the aioli. Please see our full disclosure here.
Nutrition Facts
Serving:
1
tablespoon
|
Calories:
38
kcal
|
Carbohydrates:
1.4
g
|
Fat:
3.7
g
|
Sodium:
262
mg