This smashed vegan chickpea salad sandwich is a take on the classic tuna salad. Unlike traditional tuna salad/chickpea salad recipes, it's made without mayo! It's the perfect plant-based lunch for school, work, or a trip to the beach. It's totally satisfying, customizable, and ready in just 10 minutes!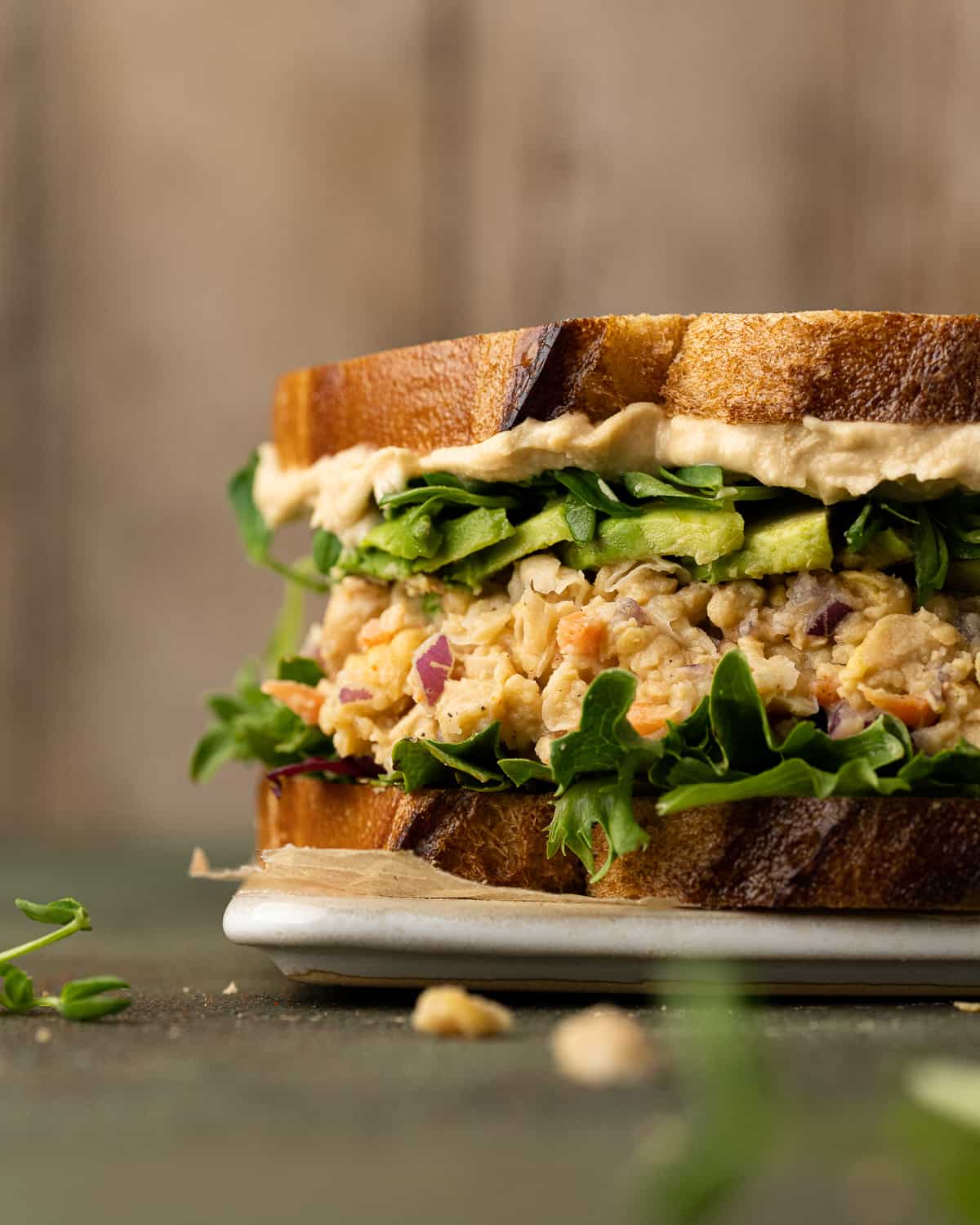 Jump to:
When chickpeas are mashed, they turn into flaky and replicate the texture of fish nicely, becoming the perfect base for vegan tuna salad! Of course it's not going to taste exactly like tuna, but it will definitely satisfy the craving.
This easy mock tuna salad can be served in so many ways:
As a hearty sandwich with your favorite toppings (like how it's served in this blog post!)
It's great alone as a snack
On top of a bed of leafy greens as a salad
Scoop it up with crackers, pita chips, or fresh veggies like cucumbers or celery
This chickpea salad is so easy to make - all you need is one bowl and 10 minutes of your time. This recipe is healthy, vegan, gluten-free, dairy-free, has no mayo, and is loaded with protein and flavor!
Ingredients
This is everything you'll need to make the best chickpea tuna salad!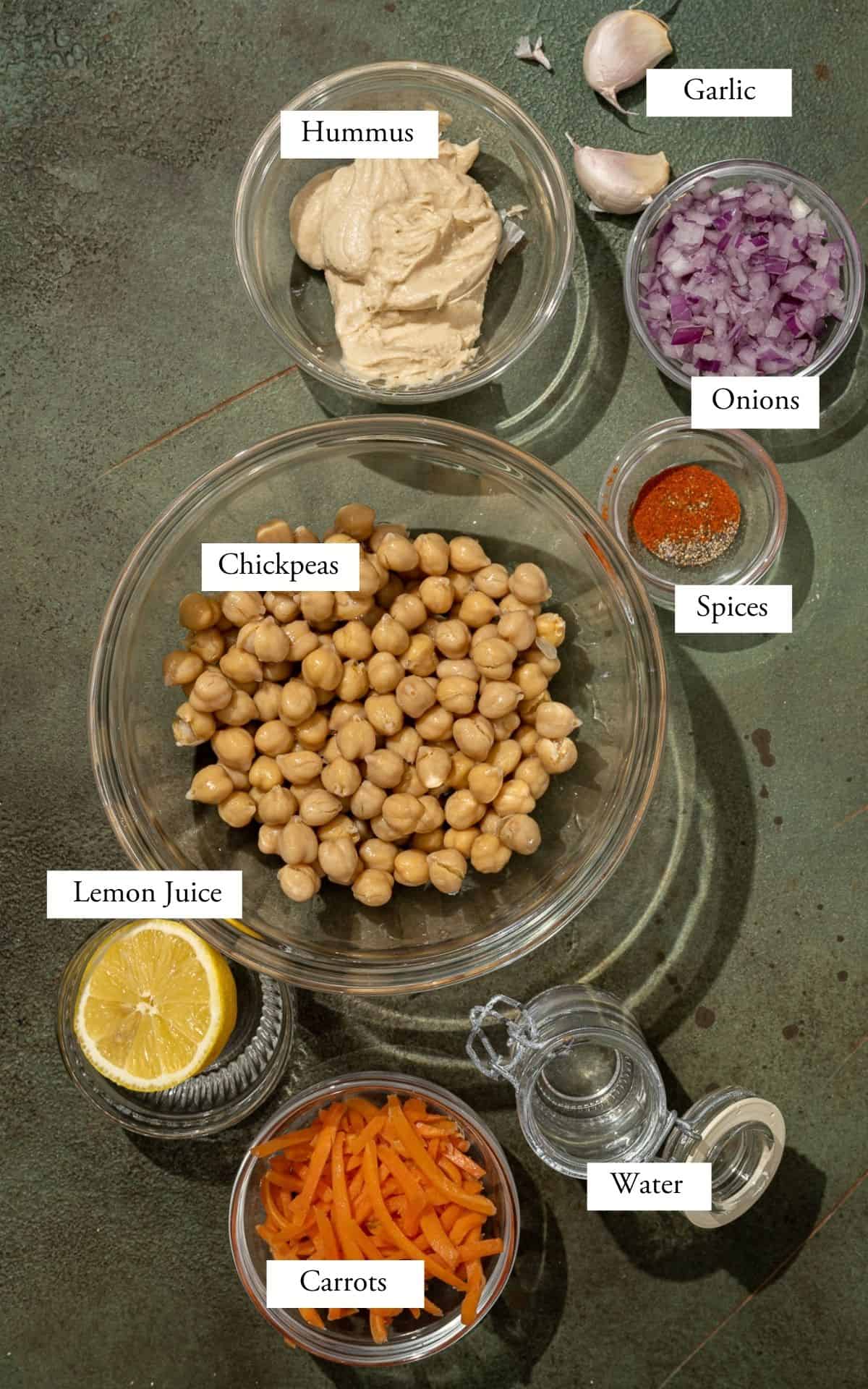 Chickpeas: the star of the show! Feel free to use canned or freshly cooked garbanzo beans.
Shredded Carrots/Carrot Sticks: to add some texture! You can just buy already shredded carrots, no need to shred them yourself!
Red Onion: any onion variety works (sometimes I'll use a shallot instead!), but red onions are classic in tuna salad because of their mild flavor and pop of color.
Garlic: if I can add garlic to something, I will! Just a clove or two adds the perfect amount of flavor.
Hummus + Water: this is how we're replacing the mayo in this chickpea salad! Thinned hummus acts as the perfect binder for all of these ingredients.
Lemon Juice: to add a bit of tang to the mixture!
Olive Oil: for added flavor and creaminess.
Spices: I like to use salt, pepper, and paprika.
I personally always enjoy my chickpea salad as a sandwich by serving it on sourdough bread with lettuce or kale, avocado, sprouts, and a thin layer of hummus.
Instructions
When I tell you this vegan tuna salad is so easy to make, I'm not kidding - there's only 2 (yes, TWO!) steps to making this recipe: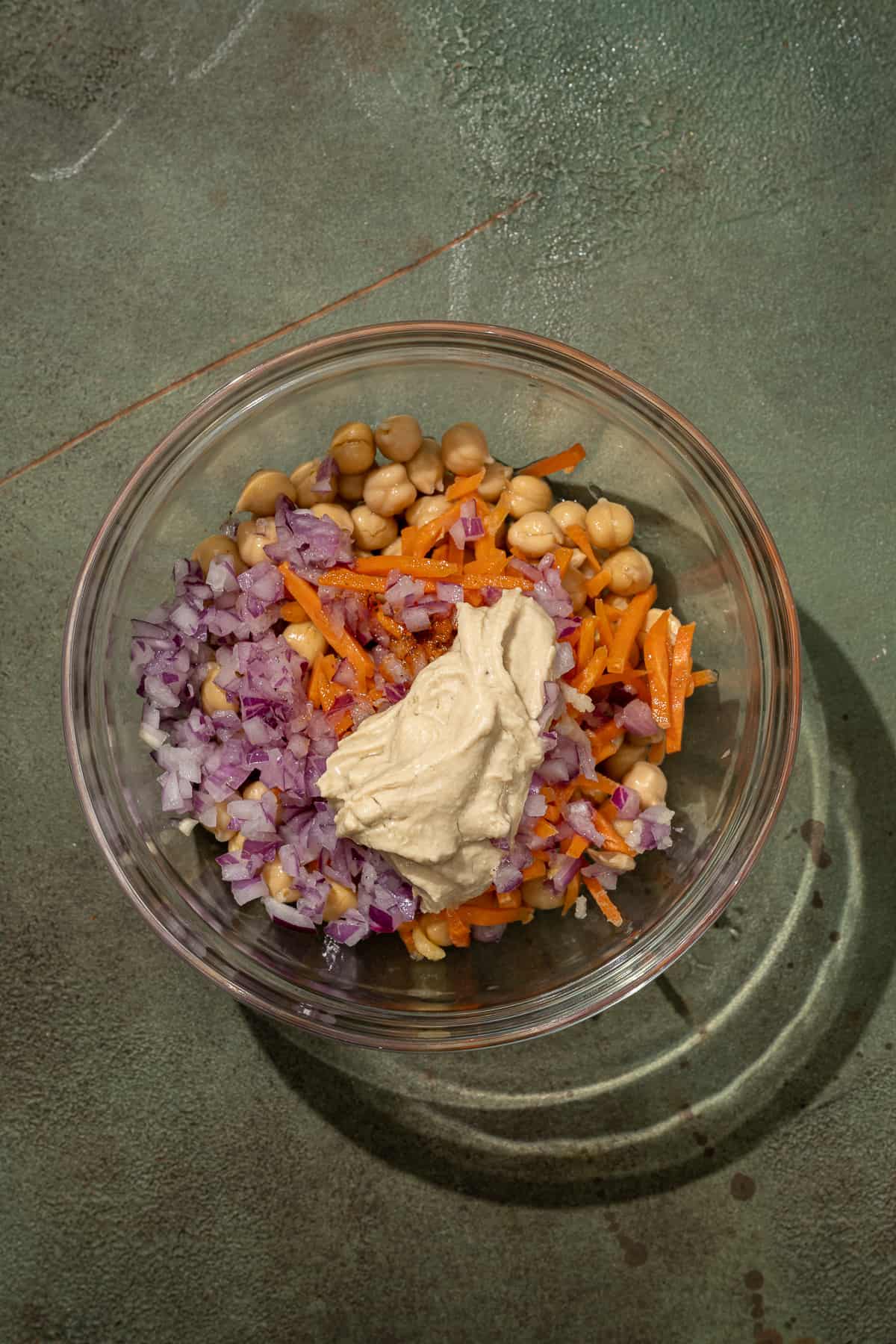 Roughly mash the chickpeas using the back of a fork or a potato masher. You can either leave a some chunks, or mash them until there are no whole beans left at all - totally up to you. I personally like to leave mine slightly chunky.
Next add in the carrots, red onion, garlic, thinned hummus, lemon juice, olive oil, and spices and mix well to combine. Taste and adjust seasonings as you'd like!
Serve alone or as a sandwich with sourdough bread, lettuce, avocado, tomato, sprouts, or whatever your favorite toppings are!
Alternatively, you can throw all of the ingredients into a food processor and pulse a few times until combined. Fair warning, you may get a different/smoother texture with less bite to it if you're not watching carefully!
Substitutions & Variations
Add a sea flavor by mixing in some nori sheets, nori flakes, a splash of soy sauce, or capers.
Use tahini, vegan mayo, or vegan greek yogurt as a binder instead of the thinned hummus.
Add hearty healthy omegas! These are naturally found in tuna, so adding some hemp hearts in will give those same nutrients.
Make this into a vegan tuna melt by adding vegan cheese and pan frying in butter until the bread is toasted and cheese is melted.
Add celery for an added bite and extra veggies! I've played around with this recipe so much and have determined that celery adds a great bite to this recipe BUT I'm just not the biggest celery fan, so I personally leave it out. If you love celery, add it in!
Mash avocado in with the ingredients to make a smashed avocado chickpea salad.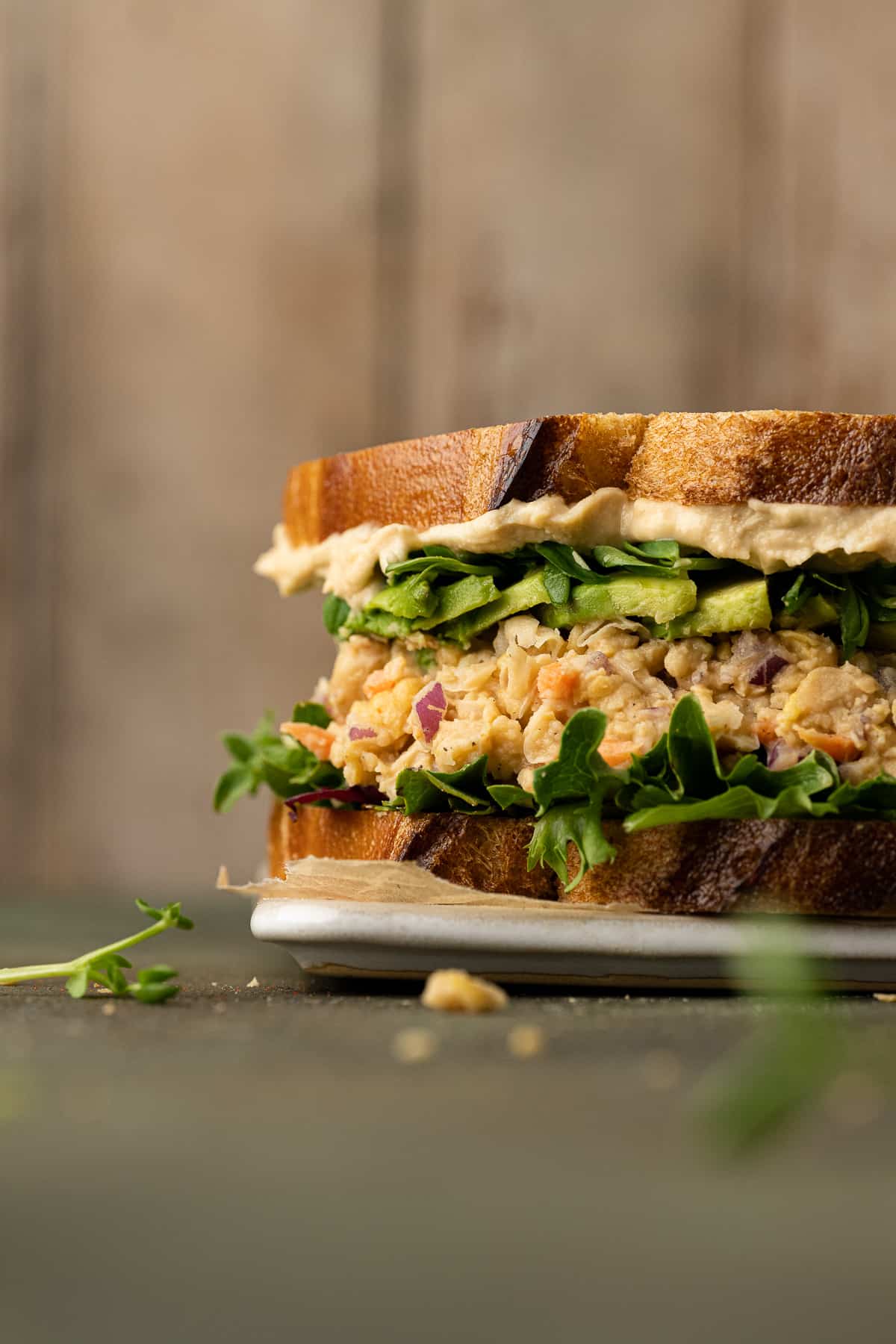 Expert Tips
If you'd prefer to use dried chickpeas over canned chickpeas: soak overnight, then drain and add them to a pot of boiling water. After 5 minutes, reduce the heat and simmer for about 1 hour. Once cooked, ¾ cup of dried chickpeas is equivalent to a can of chickpeas (about 1 ½ cups).
Make sure your chickpeas are at room temperature, as they're a bit easier to mash!
The mixture should NOT be crumbly. The hummus should be holding it together. If it seems like it's still crumbly and not sticking together, add a bit more of the hummus & water mixture.
Storage Tips
Store the leftover or meal prepped chickpea salad in the refrigerator in an airtight container for up to 5 days. Stir well before using.
Other recipes you might like
Blueberry Chickpea Salad
Sweet Potato Chickpea Buddha Bowl
Chickpea Curry
Be sure to leave a comment and rating down below if you try this recipe! Subscribe to my newsletter and follow along on Instagram for more recipes and updates.
📖 Recipe
Chickpea Salad Sandwich without Mayo
This smashed vegan chickpea tuna salad sandwich is a take on the classic tuna salad. Unlike traditional tuna salad/chickpea salad recipes, it's made without mayo!
Ingredients
1

can

(

15

oz

)

chickpeas

drained and rinsed

¼

cup

(

56

g

)

shredded carrots

½

(

70

g

)

small red onion

diced

2

(

8

g

)

garlic cloves

minced

1

tablespoon

(

10

g

)

fresh lemon juice

1

tablespoon

(

15

mL

)

olive oil

2

tablespoons

(

30

g

)

hummus

1-2

tablespoons

(

15-30

g

)

water

¼

teaspoon

paprika

salt & pepper

to taste
To Serve as a Sandwich:
6

slices

sourdough bread

1

cup

leafy greens or romaine lettuce

1

avocado

2

tablespoons

(

30

g

)

hummus

sprouts

optional
Instructions
In a large bowl, mash chickpeas using the back of a fork or a potato masher until desired consistency is reached.

Add carrots, red onion, garlic, lemon juice, olive oil, hummus, water, paprika, salt, and pepper to the mashed chickpeas and mix until combined.

¼ cup shredded carrots,

½ small red onion,

2 garlic cloves,

1 tablespoon fresh lemon juice,

1 tablespoon olive oil,

2 tablespoons hummus,

1-2 tablespoons water,

¼ teaspoon paprika,

salt & pepper

Serve chilled or at room temperature. Serve as a hearty sandwich as seen here, or it can be served as is, with crackers, in a wrap, on bib lettuce, and more!
Notes
Chickpea salad can be meal prepped. Meal prep or leftovers can be stored in an airtight container in the refrigerator for up to 5 days.
Nutritional values are estimates for the chickpea salad only. Please see our full disclosure here. Choosing the right bread will add another ~10g of protein!
Nutrition Facts
Serving:
0.5
cup
|
Calories:
184
kcal
|
Carbohydrates:
32.5
g
|
Protein:
8
g
|
Fat:
2.4
g
|
Saturated Fat:
0.1
g
|
Sodium:
411
mg
|
Fiber:
7
g