If you're looking to make the switch to veganism, a plant-based diet, or just want to incorporate more whole foods into your meals, you've come to the right place! This ultimate vegan grocery guide/list for beginners will help you gain a better idea of what shopping as a vegan looks like. Surprise - it's not as hard as you might think, especially if you sign up to receive our downloadable and printable checklist at the bottom of this post!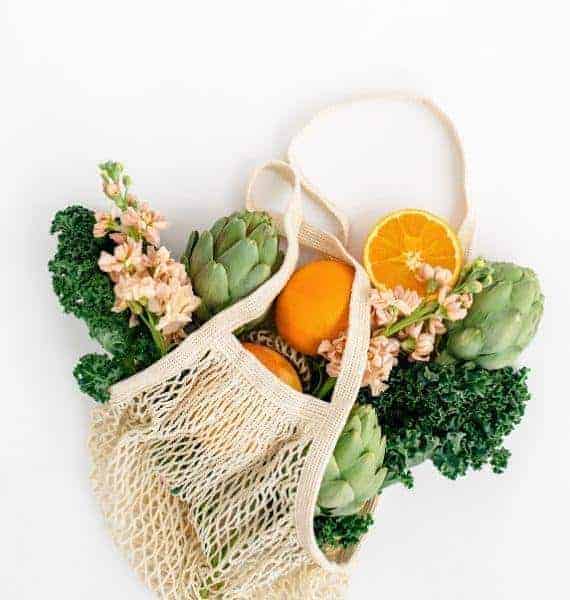 Jump to:
Because these terms are often confused or used interchangeably, we should describe the differences between vegan, vegetarian, and plant-based should be clarified.*
vegan: absolutely no animal products are consumed. Further, vegans do not eat animal byproducts such as milk, eggs, dairy, honey, etc. Any product that is derived from an animal is off the table, literally. This includes processed/packaged items that contain these derivatives (example: cereals that contain milk).
vegetarian: like vegans, vegetarians do not eat meat, poultry, or fish. Unlike vegans, vegetarians will consume animal byproducts such as milk, cheese, and eggs.
plant-based: the focus here is filling your plate with mainly plant-foods (fruits, vegetables, grains, legumes). Processed foods and animal products can still be consumed but are usually minimized, if not excluded completely.
*the differences noted are based on diet only. Veganism goes far beyond diet but that's a discussion for another time.
building a vegan grocery list for beginners
When I first switched to veganism was sitting down on Sunday and planning out my meals for the week. This could be as simple or as detailed as you'd like. For instance, I noted some lunches were noted as 'salad,' while other meals were detailed recipes I wanted to try. Regardless, be sure to write down all the ingredients you'll need either on a notepad or in the notes app on your cell phone. Don't worry, it quickly becomes second nature and you won't have to do this every single week if you don't want to.
This vegan grocery list covers all of the foods you might purchase. In reality, your list will be based on your weekly meal plan. Some of these are staple items so you won't need to buy them on a weekly basis. For example, your weekly grocery list may consist of:
lots of vegetables
some fruit
some frozen fruit & vegetables, if you prefer (I always grab frozen fruit for smoothies!)
staple items you're out of like beans, spices, oils & vinegars, etc.
grains like protein pasta, rice, quinoa, oats, etc.
dairy alternatives like milk and butter
meat alternatives like tofu, jackfruit, or tempeh
items to avoid
Let's first start off with what items do not go on a vegan grocery list. Don't freak out when you see this list, as there are so many great alternatives for all of these items:
meat & poultry
seafood
eggs
milk and creamers
cheeses
butter
honey
gelatin products (think candies)
mayonnaise
desserts that contain dairy products (ice cream, cookies, etc).
A quick google search is your best bet if there's something you're unsure of! Or you can always send me an e-mail or a DM on Instagram!
grab your free download of my ultimate vegan grocery list here!
fruits
Fruit is so important for your health and can be eaten daily!! I am begging you to stop listening to people who say fruit is bad for you. The natural sugars found in fruit are in no way comparable to the sugar you get from eating a donut. Fruits are a fantastic source of vitamins, minerals, and antioxidants. They're also rich in fiber, nutrients, and help to reduce your risk of chronic diseases. Plus, it's delicious - they don't it call it nature's candy for nothin'!
I eat most of my fruit in smoothies or oatmeal. I try to eat a variety of fruit every morning for a few reasons.
Fruit gives you natural energy, so it's a wonderful way to start your day
Because fruits are high in fiber, this helps to regulate your bathroom schedule (TMI?). But seriously, if you're having issues going to the bathroom, try incorporating some fruit into your breakfast.
Fruit is so versatile and can be easily added to any breakfast I am having. Whether it's a smoothie, bready-breakfasts like pancakes or waffles, oatmeal, and more, fruit is a great addition.
You can include fresh, dried, or frozen fruit in your diet. Ultimately, I would recommend staying away from dried, especially if you're concerned about sugar. Dried fruits often have added sugars to them.
If you don't love fruit - I would suggest at least incorporating berries, as they are some of the most potent in terms of nutrients. Also, making smoothies is a great way to consume fruit while having it not really seem like you're eating fruit, if that makes sense.
fresh fruit
apples
avocados
bananas
berries (blueberries, blackberries, strawberries, raspberries)
citrus (lemons, limes, grapefruit, oranges)
dates
grapes
kiwis
mangoes
melons (cantaloupe, honeydew, watermelon)
pomegranates
frozen fruit
Because frozen fruit is packaged at its peak freshness, frozen fruit is sometimes more nutrient-rich than fresh fruit! Frozen fruit is great to have on hand for smoothies, oatmeal, or even baking. You can also always freeze any fresh fruit you bought before they go bad so they don't go to waste.
acai packets
berries
mangoes
mixed berries
peach slices
pineapple
Vegetables
Vegetables are going to make up the majority of your ultimate vegan grocery list for beginners. Because they are full of essential vitamins, minerals, and antioxidants, vegetables provide many important health benefits to your body. Some benefits of vegetables are lower risk of chronic diseases, lower blood pressures, increased nutrition, and more. I know of many diabetics who rarely need to utilize insulin anymore after switching to a vegan or plant-based diet!
The vegetables I get vary weekly based on what meals I'm going to make that week. However, the staple vegetables I always get are garlic, onions, broccoli, carrots, mushrooms (I'm drooling), spinach, and lettuce.
Similar to fruit, if you struggle to add veggies into your diet, sneak them into your smoothies! For example, spinach is always a great one to add - it's very neutral in flavor and really only changes the color of your smoothie.
fresh vegetables
arugula
asparagus
beets
broccoli/broccolini/broccoli rabe
brussel sprouts
carrots
cauliflower
cucumbers
eggplant
garlic
kale
lettuces (romaine, butter, iceberg, etc)
mushrooms
onions
potatoes
spinach
squash (acorn, butternut, spaghetti, yellow)
sweet potatoes
tomatoes
zucchini
frozen
mixed vegetables
peas
spinach
canned/dried
artichoke hearts
corn
diced or sun-dried tomatoes
dried mushrooms (awesome for ramen!)
minced garlic
pumpkin puree
whole & refined grains
Grains are a staple for all vegans. Whole grains are the healthier option between whole grains and refined grains. However, both are pantry staples, offer health benefits, and can round out a meal. Personally, I always have rice, quinoa, protein pasta, and oats on hand.
barley
bread
buckwheat
cereals
couscous
farro
oats
pasta
quinoa
rice (brown, white, wild, veggie)
Legumes
Because vegans do not eat meat, legumes are a big part of a vegan grocery list. Legumes are a great source of plant-protein, are rich in vitamins and minerals, and have wonderful health benefits. Legumes include beans, lentils, soy products, and peas. If I'm being totally honest, other than lentils I pretty much only buy canned legumes. In my opinion, they're just more convenient and make it much faster to throw together a quick and healthy meal.
Further, using beans is a very budget-friendly option, especially in comparison to buying meat ($7-10+ for 4 slices of chicken breast that will yield 4 servings in comparison to $10 for 10 cans of beans that will yield 25 servings).
black beans
butter beans
cannellini beans
chickpeas
kidney beans
lentils (red or green)
navy or great northern beans
pinto beans
soybeans (aka edamame)
split peas
white beans
Nuts & Seeds
Nuts and seeds are good sources of protein, healthy fats, fibers, vitamins, and minerals. Further, they regulate body weight as their fats are not fully absorbed, they regulate food intake and help burn energy.
Nuts and seeds are great for snacking or are awesome to add to salads, smoothies, homemade dressings, homemade milks, and more!
If you're on a budget, look for sales on nuts, as some of them (if not all) can get seriously pricey! Seeds are usually the more affordable option, and still provide some of the same benefits.
almonds
cashews
chia seeds
flax seeds
hazelnuts
hemp seeds
mixed nuts
pecans
peanuts
pistachios
sesame seeds
sunflower seeds
walnuts
Don't forget nut and seed butters! My favorites are the classic peanut butter, tahini, and cashew butter.
Alternatives
Vegan alternatives are becoming more affordable, accessible, and better tasting every day. I promise you'll be able to find an alternative you love! I have a guide to my current favorite/the best alternatives here, so I'll keep this more generic.
Dairy
Other than all types of cheese (you'll find the basics like cheddar and mozzerella, but there's really no options for cheese like brie or burrata), all other dairy products have been veganized by now.
butter
cheese
cream cheese
ice cream
milk
sour cream
yogurts
Meat
Like dairy alternatives, you can pretty much find any meat alternative you might want. If you're looking to follow a whole-foods, plant-based diet, you might want to exclude/these items from the ultimate vegan grocery list for beginners, as most are pretty processed! However, these are great transition products for new vegans, and just great to add into a meal every now and then even if you've been vegan for a while.
meatless crumbles
pulled jackfruit
seitan
soy curls (I've only been able to find these on amazon - awesome in a stir-fry or copy-cat Chinese dishes)
tempeh
textured vegetable protein
tofu
vegan burgers, chick'n, deli slices, meatballs, sausages, and more.
Herbs & Spices
The key to make all food taste good, vegan or not, is seasonings people! I'll be quick here and just say that herbs and spices really help boost the flavor of your dish. In addition, a lot of spices (think turmeric, cinnamon, cumin, etc) have incredible health benefits to them! My pantry is overstuffed with herbs & spices. My go-tos are:
(herbs: basil, bay leaf, chives, cilantro, mint, oregano, parsley (heyyyyy pinch of parsley), rosemary, and thyme
spices: black pepper, cayenne, cinnamon, coriander, cumin, curry powder (check out this fan favorite chickpea curry recipe!), garlic powder, italian seasoning, nutritional yeast, onion powder, paprika, salt, turmeric
Miscellaneous Items to add to your ultimate vegan grocery list for beginners
These items consist of condiments, sweeteners, and more that can help you cook a recipe or take it up a notch.
agave
apple cider vinegar
broths (vegetable broth, 'no chicken' broth or base)
date syrup
maple syrup
molasses
oils (avocado, coconut, grapeseed, olive, vegetable)
vinegars (red wine, balsamic, white balsamic)
cooking wines (red and white)
sauces (bbq, cocktail, hot, marinara, thai chili)
other condiments (ketchup, mustard, soy sauce, tamari)
hummus, gauc, salsa
miso paste
vegan dressings
Baking + Cooking
These will definitely vary based on whether or not you have any allergies/dietary restrictions.
all-purpose flour
almond flour
coconut flour
baking soda
baking powder
chocolate chips
cocoa powder
coconut flakes
egg replacers
sugars (brown, granulated)
yeast
Is it more expensive to be vegan?
Honestly, it can be...but it also doesn't have to be! Eating a vegan diet gets expensive when you start moving away from a whole-foods/plant-based vegan diet. The more vegan alternatives (cheeses, meat alternatives, etc) you choose to buy, the pricier your shop is going to be. However, if you stick to fruits, veggies (buy what's in season or from your farmer's market for reduced costs), grains, nuts & seeds, etc, it doesn't have to be expensive! You can buy 10 cans of beans for under $10, a box of brown rice for $2.99, a package of 3 romaine hearts for $3.99, and so on. Another tip to keep prices lower is to try to find a grocery store that allows you to buy in bulk. This can greatly reduce the cost of more expensive items, like nuts.
What's the best grocery store for vegans?
Do not overthink this! I promise you can find nearly, if not everything, you need at your local grocery store! You may not have realized this before because you weren't looking or didn't know what you needed! Aside from your basic grocery store, other great stores include:
Whole Foods
Trader Joes
Fairway Market
Fresh Market
A local health food store
If you made it to the end of this, I truly hope this "Ultimate Vegan Grocery List for Beginners" was helpful to you - I know it's a ton of information! If you have any questions, please do not hesitate to reach out or leave a comment below.
grab your free download of my ultimate vegan grocery list here!