The number one question I get as a vegan (other than the one about my protein intake) is "can you still go out to eat?" The answer is YES! And no, you don't have to get a salad if you don't want to.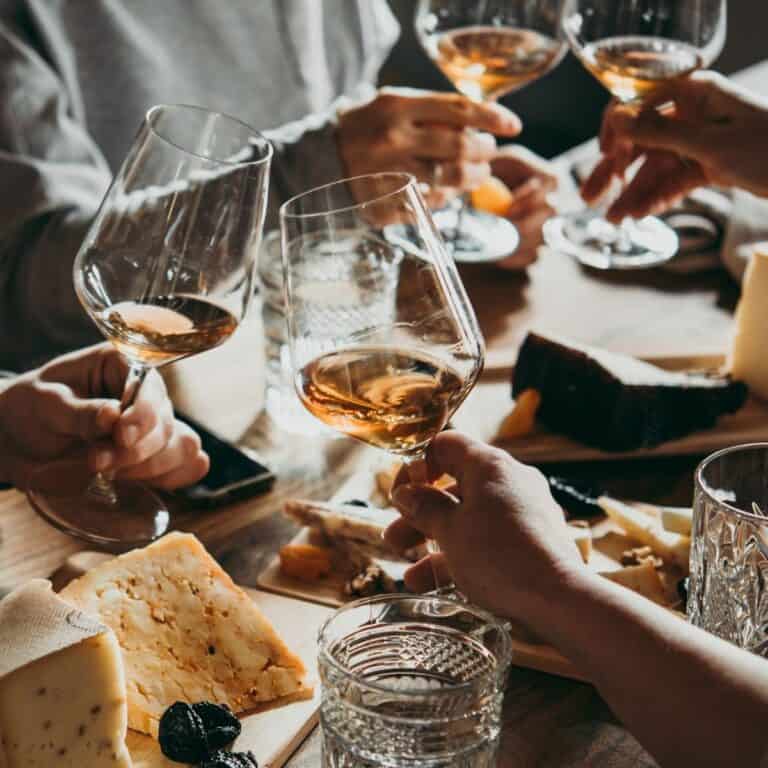 Cooking vegan meals at home is incredibly easy as long as you're buying the right groceries (check out my grocery guide if you need help). But going to restaurants is a totally different ball game, you have no control (or atleast you think you don't)! This was something I was concerned about when I first made the switch to veganism, so I totally get why people ask about it.
I'm going to give you my top 5 tips to navigate eating out as a vegan as well as some recommendations for what you can order at certain restaurants!
Expert Tips
These are just a few tips and tricks that I've picked up over the last few years! I hope you find them helpful and they get you to a point where you'll never hesitate when asked to go out to eat.
Happy Cow
The Happy Cow app or website is seriously the best way to go when you're looking for a vegan-friendly restaurant in your area or wherever you're traveling to. You just type in your location and a list of restaurants will pop up (I always put the zip code)!

These restaurants will be marked as either entirely vegan, entirely vegetarian, or has vegan options. You also have the option to add restaurants that you don't see on their site and help others!

Look up the menu online beforehand and/or call ahead
I feel like this is just a standard practice, vegan or not! If your friends or family picked a spot to eat, check out the menu beforehand so you know what you're walking into. This will help you figure out if there are options for you, whether it's already vegan or something that can be easily modified (sometimes it's as simple as asking for no cheese)!

When it comes to calling ahead, I will ONLY do this if: 1. I really see absolutely nothing on the menu that I'd be able to modify (has only happened to me one time, like this place didn't even have a salad) and 2. I didn't pick the restaurant so there's no opportunity to change it. In this case, I will just call and ask whether they are able to accomodate a vegan diet in any way. The one time I had to do this, they immediately said yes and gave me a few options.

Seek out ethnic cuisines
I have found that most ethnic cuisines have naturally vegan options or dishes can easily be modified. Great ones to look out for are Mexican, Thai, Indian, and Mediterranean!

Get creative with side dishes
This is huge when it comes to certain restaurants (think steakhouses). Sides are great because you can usually create an entire meal out of them. Sides like rice or pasta paired with sauteed spinach and steamed broccoli can create a satisfying meal!

Become the champion of substitutions
As I mentioned earlier, most menus have dishes that can be easily made vegan, you just need to know how to do it! You can definitely just remove whatever the non-vegan item is, like cheese for example. I know many vegans that say they have an allergy to really ensure that nothing sneaks onto their plate. I personally do not do this. However, I don't see anything wrong with it and I will leave it up to you!

ANYWAY, if taking ingredients off starts to make your dish too light, make a substitution instead. A great example of this is a burrito or taco: you can substitute meat for beans and cheese and sour cream for guacamole.
Be sure to leave a comment below of your favorite tip!
What to Order at your Favorite Restaurants
What should a vegan order at a restaurant? Of course, depending on where you're going, your options will be different. Here are some broad cuisines and what you can most likely order at each restaurant!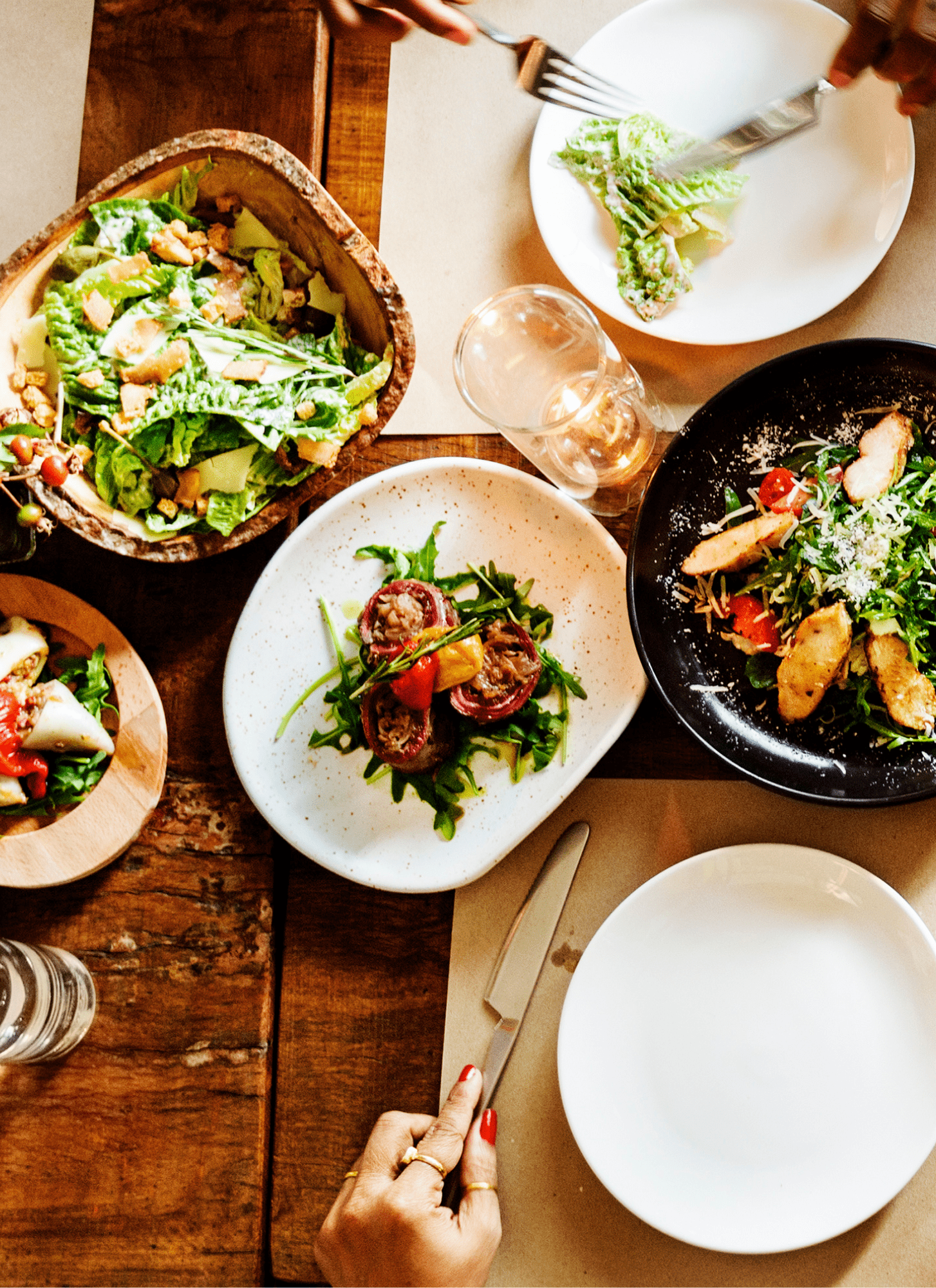 How to Eat Vegan at an Italian Restaurant
Totally go for that bread basket and dip it in olive oil, yum
Bruschetta
Minestrone soup
Pasta with veggies and/or white beans in a marinara sauce or garlic & oil. Make sure you mention no cheese, we all know they love to sprinkle on some fresh parmesan. You could also check to see if it's fresh pasta being used (meaning it'll likely be made with eggs). If so, ask for gluten-free pasta!
Vegetable medley pizza with no cheese or a tomato pizza (pizza rossa)
How to Eat Vegan at an Asian Restaurant
Chinese Restaurants
Vegetable spring rolls
Vegetable dumplings (my favorite)
For main entrees, you can pretty much ask for any meat to be replaced with tofu (make sure you check for fish sauce):

General Tso's Tofu
Orange Tofu
Kung Pao Tofu
Tofu & Broccoli
Sweet & Sour Tofu

Vegetable fried rice (no egg or butter)
Steamed vegetables and rice
Japanese Restaurants
Seaweed salad
Vegetable Tempura (double check! Sometimes they throw egg in the batter)
Edamame
Vegetable gyoza
Miso soup
Vegetable sushi rolls

Avocado
Avocado Cucumber
Vegetable
Sweet Potato
Tofu

Vegetable fried rice (no egg or butter)
Noodle bowls like ramen or udon, just make sure it's a miso broth and to remove any meat/sub with tofu
How to Eat Vegan at a Mexican Restaurant
Be sure to ask for no cheese or sour cream, as these ingredients are common in most dishes!
Chips & guac and/or salsa/pico de gallo
Vegetable or bean burritos/burrito bowls
Vegetable or bean tacos
Veggie fajitas
Obviously, a margarita is a must, even though it's not food
How to Eat Vegan at a Steakhouse
Steakhouses are totally where sides are your best friends! I have seen some steakhouses that also sell sushi, so if that's the case, get some vegetable rolls. But if not, here are some sides that you can pick and choose from to create a meal:
Salad (no cheese)
Baked potato
Green beans
Mushrooms
Steamed broccoli/broccolini
Sauteed spinach
French fries
Also, check if they have a vegetarian menu! Even if they don't have a ton of options, at least you'll likely only need to remove cheese rather than ordering a bunch of sides.
How to Eat Vegan at an American Restaurant
American restaurants are great because they usually have a variety of option/have a spin off of a different cuisine! The list below totally depends on the American restaurant you're at.
Salads
Veggie or Beyond/Impossible burger with fries
Pasta
A veggie pizza (no cheese)
Be sure to leave a comment down below if you found this helpful or to share your experiences of dining out as a vegan! Subscribe to my newsletter and follow along on Instagram for more recipes and updates.