The holidays are right around the corner, and there's no better way to celebrate than with this epic vegan charcuterie board! This vegan snack board is a great appetizer or snack to enjoy on Thanksgiving, Christmas, or truly any occasion. It's easy to customize and can be loaded up with fresh fruit, crackers and the best artisan foods like jams, nuts and creamy vegan cheeses!
Jump to:
This blog post is in partnership with Clif Family and Miyoko's Creamery.
It's party time, people!! I don't know about you, but nothing says "party" more than a variety of delicious and satisfying snacks — and nothing says "snacks" better than finger foods on a charcuterie board!
This charcuterie board is made with the best plant milk cheeses from Miyoko's Creamery and fine artisan foods such as preserves, jams, marmalades, butters and nuts from Clif Family.
Clif Family crafts artisan foods for indulgent snacking, entertaining, gift giving or enjoying in your favorite recipes. Clif Family is certified organic, uses both sustainable production and packaging, and strive to contribute to a more vibrant & healthy food community!
Miyoko's Creamery is the natural evolution of dairy– using time-honored creamery techniques and the finest organic ingredients to make award-winning artisan plant milk butters and cheeses. Perfect for all culinary and baking applications, they are phenomenally vegan products that perform and taste delicious — so you can savor compassionately.
Basically, as far as charcuterie ingredients go, Clif Family and Miyoko's Creamery both deserve a spot on your board!
Why you'll love building your own vegan cheese board
Whether it's the holiday season or you're just having a gathering/party with friends and family, charcuterie boards make the a fun appetizer or the perfect snack! You could even enjoy them for as a light meal.
They're quick & easy to make and are extremely customizable. No board ever has to be the same!
They're a great way to use up any fruits and veggies you have on hand.
It's healthy, dairy-free, vegetarian/vegan, and can easily be made gluten-free! If you need it to be nut-free, you can easily replace the nuts with seeds or something else entirely.
What's a charcuterie board?
"Charcuterie" is a French term that translates to translates to meat (chair) and cooked or cured (cuit). It refers to the art of preparing meat products and in France, a deli is called charcuterie. If you're not familiar, traditional charcuterie boards typically focus on an assortment of cured meats but as they've gained popularity, they now commonly include cheeses, crackers, bread, nuts, fruits and/or veggies that are served on a wooden board or stone slab. I promise, the vegan version is just as good as the traditional!
The charcuterie board as we know it today became popular in more recent decades for its snack-ability and customizability. You could also refer to it as a snack board, a grazing board, antipasto platter, or mezze platter.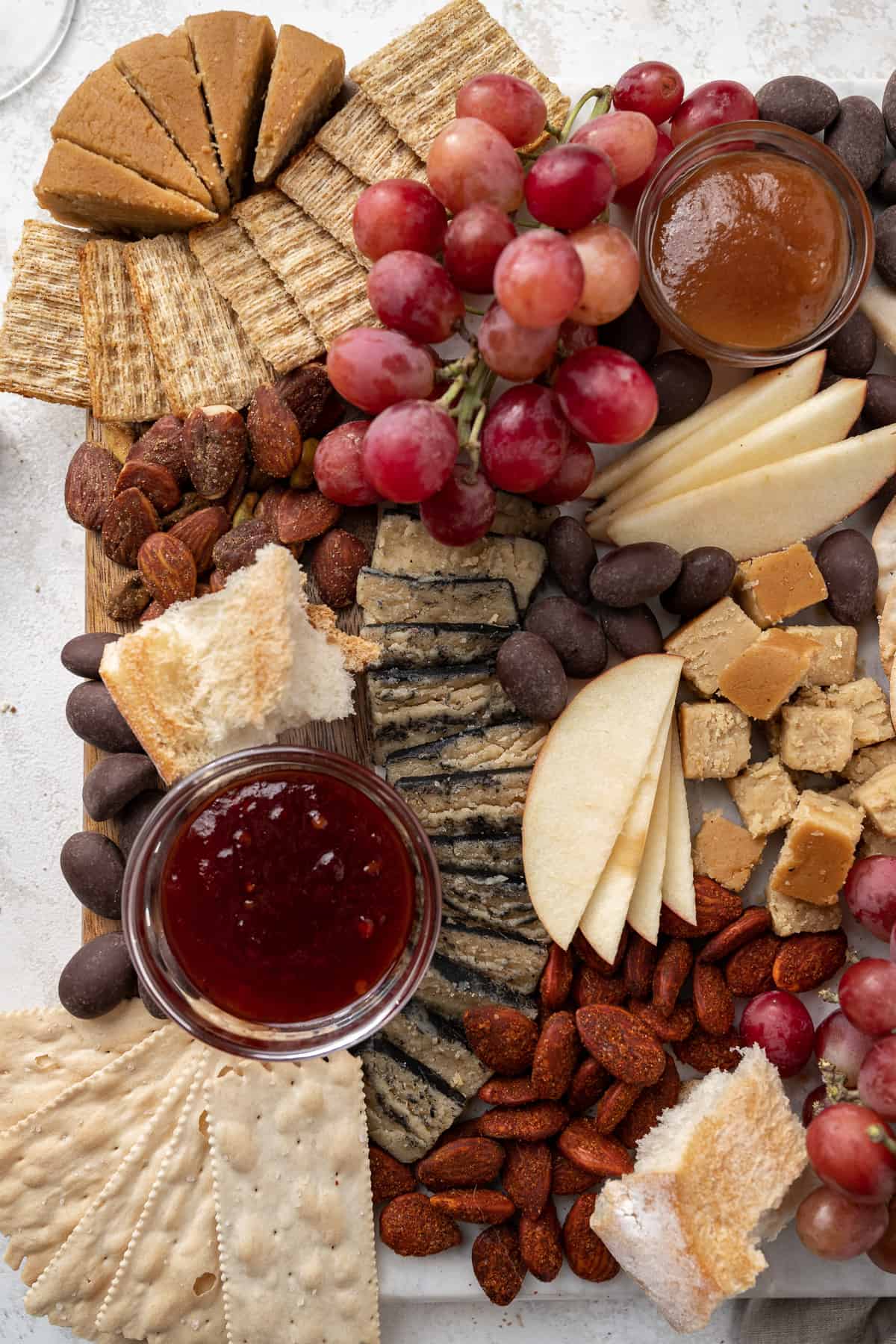 When to serve a vegan charcuterie board?
Charcuterie boards are super versatile and easy yet impressive, making them a great option to serve for so many different occasions. Here are some of my favorite special occasions to make a vegan charcuterie board for:
Thanksgiving
Friendsgiving
Christmas
New Year's Eve
Date Night
Girls Night / Dinner parties with friends
Valentine's Day
Easter
Mother's Day or Father's Day
4th of July
Birthday
However, don't feel like you need the next party, holiday or fancy event as the only reason to make these impressive boards. You can truly serve a charcuterie board whenever you want! Make yourself mini charcuterie board to snack on during your next movie night or as a light dinner when you don't feel like cooking. Make one to bring on a picnic or beach day with your friends!
Ingredient Ideas
The best thing about grazing boards is that there are no rules! There's so many different ingredients that you could use to build your board. The goal is to incorporate a variety of items that are a mix of crunchy & soft textures, salty & sweet flavors, and neutral & vibrant colors. Here's a list of my favorites and what I suggest - feel free to pick what you like best:
1. Best Vegan Cheeses
Let's be honest, not all vegan cheeses are created equally. Lucky for you, I've tried nearly all of them and can suggest the best of the best! All of these vegan cheeses taste amazing straight out of the package, on crackers or bread, or paired with any other charcuterie items.
Miyoko's is my preferred brand of vegan cheeses because they're delicious, creamy, and of course planet-friendly! Some other types of cheeses you could add are vegan feta, vegan parmesan, and cashew ricotta.
2. Vegan Meats
You don't need vegan meats to make an epic plant-based charcuterie board, but if you want your board to be a bit more authentic then feel free to add them on! They definitely add a nice savory flavor that helps to balance out the board. If you're not interested in adding meats, then just add more of what you love from the other categories!
VEGAN PROSCIUTTO
VEGAN PEPPERONI
VEGAN SALAMI
VEGAN DELI SLICES
VEGAN JERKY
3. Nuts & Fruits
There are so many fruits and nuts or seeds that you can add to your board! I love picking an assortment that will add in delicious flavor and some beautiful color. Be aware of what's in season, as it can greatly affect not only the cost of your ingredients, but the quality as well.
MACADAMIA NUTS
GRAPES
APPLE SLICES
ORANGES
FIGS
PEARS, PLUMS OR PEACHES
DRIED FRUITS - apricots, mango, cherries, cranberries, raisins, dates
BERRIES - strawberries, raspberries, blueberries, blackberries
4. Vegetables
Pick your favorite in-season vegetables or pickled veggies to add some acidity to the snack board. I personally like raw veggies for that added crunch!
OLIVES
CHERRY TOMATOES
BABY CARROTS
CELERY
BROCCOLI
BELL PEPPERS
CUCUMBER SLICES
PICKLES
5. Sauces & Dips
Including a few different sauces and/or dips is a great way to bring more flavors to the vegan charcuterie board! They pair perfectly with cheeses and the baguette.
JAMS / PRESERVES / SPREADS
SAUCES
VEGAN HONEY
AGAVE
CRANBERRY SAUCE
DIPS
6. Crackers & Breads
Crispy crackers and a fresh baguette act as the base for every bite! I love incorporating some baguette slices, classic 'buttery' round crackers, and at least 1 type of artisan cracker.
ROUND CRACKERS
CLUB CRACKERS
ARTISAN CRACKERS
WHEAT THINS
TRISCUITS
BAGUETTE
PITA BREAD
PRETZELS – or pretzel thins
Equipment
A board! You can use a wooden platter, a stone slab, a serving dish, a wooden cutting board or even a baking sheet lined with parchment paper.
3-4 small bowls for sauces and dips
Cheese knife
What size board should I use?
The best part is: there's no WRONG size! Your board can be as big or as small as you want it to be but it really depends on when you're serving it/for how many people. You want to make sure your board isn't too big or too small, as you want all your snacks to look abundant while also still being able to fit everything on there.
In the images you see here, my serving platter was 13 inches by 13 inches. This was a great size for my family of 4 to enjoy as an appetizer/snack.
For a small gathering or two person meal, you can use a standard wooden board of around 9 inches by 13 inches. For a party, you are going to want a larger board that measures around 18 inches x 14 inches or larger.
Don't forget, you can always refill the board as things are eaten, so don't worry about the size of the board too much! Keep extras of each item prepped and ready to go so you can easily refill when/if you need to.
How to build your board
Once you've chosen all of your ingredients from the categories above, it's time for the fun part- assembling the vegetarian charcuterie board!
STEP 1: Start by placing the larger items on the board first. This is likely be your cheese wheels and your bowls filled with sauces or dips/spreads. Space them out on the board so you're able to place small ingredients in between.
STEP 2: Next, layer in the medium-sized items such as the crackers and bread, vegan meats, fruits and veggies.
STEP 3: Lastly, fill in any remaining gaps with smaller items like nuts, dried fruits and squares of dark chocolate. If you'd like, you can go the extra mile and dress up your board a bit by adding fresh herbs or edible flowers.
TIP: If you have a smaller board, I recommend picking 2 or 3 items from each of the categories listed above. If you have a larger board, pick 3-4 items from each of the categories. This is always a good rule of thumb, as it will ensure you have a great variety of snacks to choose from at every corner of the board!
More charcuterie board ideas
Vegan Breakfast Board: Load this with mini pancakes or waffles, fruits, tofu scramble or scrambled Just Egg, tempeh bacon, strawberry chia jam and more.
Vegan Dessert Board: Candied nuts, dark chocolate squares, mini chocolate chip cookies, chocolate avocado mousse, graham crackers, marshmallows, and more.
Vegan Lunch Board: Vegan cheeses, vegan meat slices, mini hummus and cucumber sandwiches, ramekins filled with dairy-free tomato soup for dipping, crackers and baguettes.
Cuisine-Based Board: Add some olives, hummus, tzatziki, grape leaves, falafels and pita bread to make this a Mediterranean-inspired board or pile on taquitos, salsa, dairy-free queso, mini quesadillas, guac, and chips to make this a Mexican-inspired charcuterie board.
Themed Board: You can make your board dedicated to a specific season, holiday, movie and more. Here are some examples:

For seasonal boards, try using in-season produce and colors that match that season!
For holidays, shape your board into the shape of a tree or wreath for Christmas or use the color scheme of red, green and gold.
For birthdays, arrange everything into the shape of the number of years they're celebrating and of course include of all their favorites.
Expert Tips
Keep the board dry by putting any wet ingredients like olives, pickles or soft cheeses into small bowls. This will stop them from spreading and contaminating any other ingredients.
Place complementary items next to each other, such as crackers and hummus, cheese and jams or chocolate and strawberries, for ease!
Working with odd numbers will help keep the board looking more balanced. For example, 3 small bowls filled with dips or sauces.
Spread out similar colored items and the same category of items across the board! This will help bring balance to the board and so that every corner of the board offers something different.
Don't go overboard! Charcuterie boards can quickly become an expensive appetizer. Try sticking to just 3 options per category!
Storage Tips
In the unlikely event that you have leftovers on your board, it's easy to deconstruct and save for another time. You can return any nuts and crackers to their packages, place any cheeses, meats, and fruits and veggies into airtight containers and store in the fridge, and any jams/preserves back into their jars!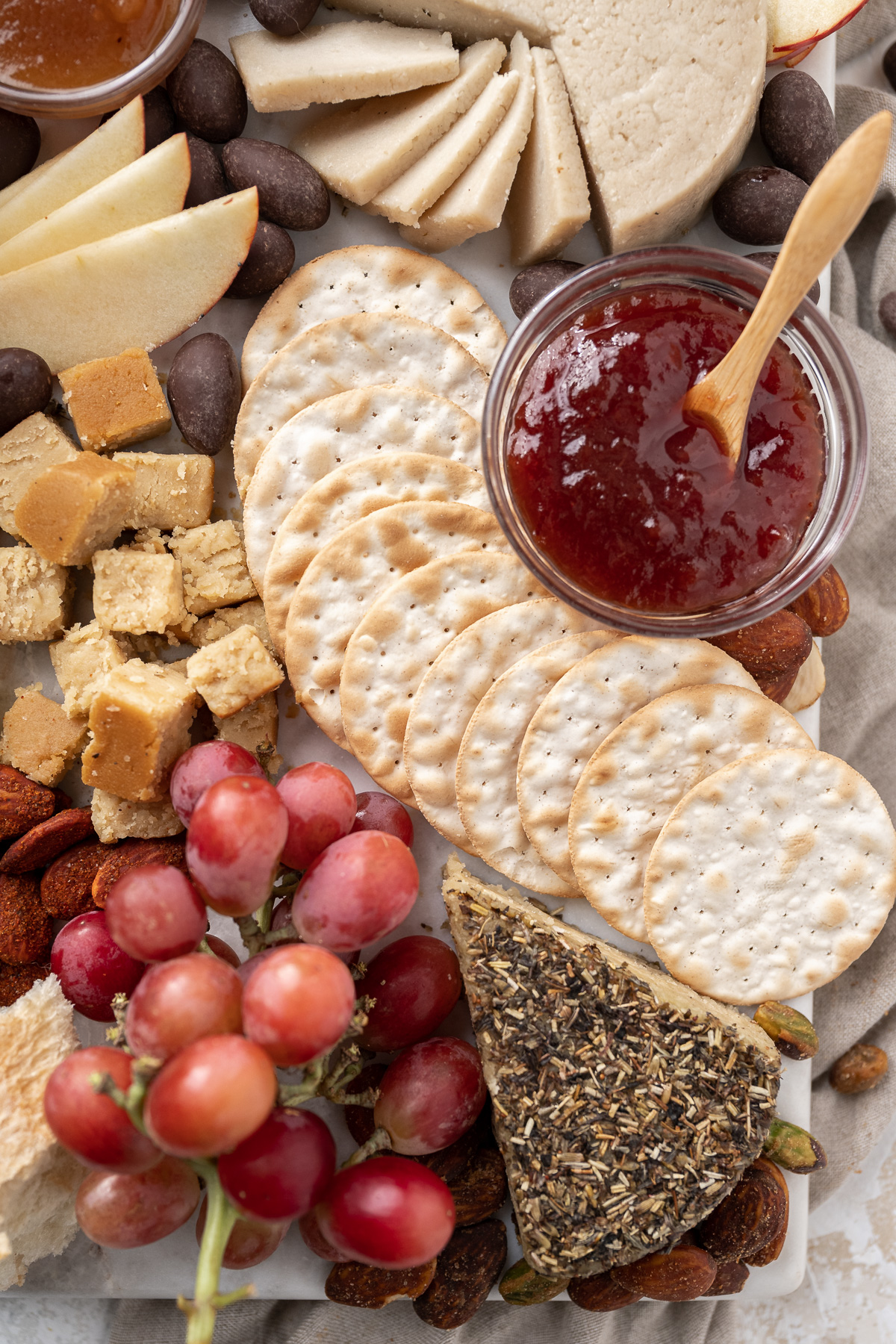 FAQ
Can I prep a charcuterie board ahead of time?
Absolutely! You can cut your fruits and veggies, slice or cube your cheeses, and make any sauces/dips you plan to add to the board. Cover or store in an airtight container and then, when you're ready, build your charcuterie board!
Where can I buy vegan cheeses or vegan meats?
Luckily, there are now so many vegan cheese and meat options that you'll likely be able to find them at your local grocery store! Otherwise, you can find them at many of your favorite grocery stores like Whole Foods, Kroger, Target, Sprouts, Walmart or at your local health foods store and more. You could also always purchase them online for easy at home delivery.
How do you say charcuterie?
It's a French word pronounced "shar-KOO-tər-ee"!
Other vegan sides you'll love
Be sure to leave a comment and star rating down below if you try this recipe! Subscribe to my newsletter and follow along on Instagram for more recipe!
📖 Recipe
How to Make the Ultimate Vegan Charcuterie Board
The holidays are right around the corner, and there's no better way to celebrate than with this epic vegan charcuterie board! This vegan snack board is a great appetizer or snack to enjoy on Thanksgiving, Christmas, or truly any occasion.
Equipment
1 Board

wooden cutting board, stone slab, serving platter

3-4 Small bowls

Cheese knife
Ingredients
Vegan Cheeses:
Vegan Meats: 
Vegan Proscuitto

Vegan Salami

Plant Based Deli Slices

ham, turkey

Vegan Jerky

Vegan Pepperoni
Crackers and Bread:
French Baguette

Crackers - I get a variety of round

triscuits, and square

Naan Crackers

Pita Bread

Breadsticks
Sauces & Dips: 
Fruits & Nuts: 
Grapes

red or green

Apples

sliced

Figs

sliced

Dried fruits

cranberries & apricots
Vegetables:
Celery

Baby Carrots

Cucumber Slices

Pickles

Olives
Instructions
Gather your ingredients - listed in the ingredients above are what I typically use on my boards and suggest. Pick 2-3 items or more from each category depending on the size of your board. For more inspiration, see the rest of the ideas in the post above.

Prep anything that needs to be sliced like bread, cheeses, and fruit or anything that needs to be made from scratch such as dips, like homemade hummus. 

Start by placing the largest items on the board first. This will be your cheese wheels and your bowls filled with sauces or dips/spreads.

Next, layer in the medium-sized items such as the crackers and bread, vegan meats, fruits and veggies. 

Next, fill in any remaining gaps with smaller items like nuts, dried fruits and squares of dark chocolate.

Lastly, if desired, garnish with fresh herbs or decorate with edible flowers.
Notes
Use this recipe as a guide to create your own amazing vegan charcuterie board! These are simply my ingredients suggestions, with even more listed throughout the blog post.
Choose the amount of each ingredient based on your preferences and the size of your board! 
Especially because every board is different, nutritional values are estimates only. Please see our full disclosure here.
Nutrition Facts
Serving:
1
g
|
Calories:
207
kcal
|
Carbohydrates:
28
g
|
Protein:
5
g
|
Fat:
10
g
|
Saturated Fat:
2
g
|
Sodium:
247
mg
|
Fiber:
5
g
|
Sugar:
25
g